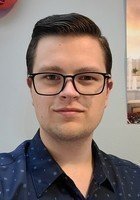 Daniel
Certified Tutor
Some people crave adrenaline and adventure; others crave sugar. As for me, while I do love sugar, there's nothing more exciting than helping people do things they thought they weren't capable of and getting to see the lightbulbs go off in their heads. I have a passion for learning, a caring heart, and an easy-going nature that makes me well equipped to mentor others. As a student myself, I strive to be on the same team as those I teach and would love to be your support as I guide you through complex topics one step at a time.

I am currently pursuing a B.S. in Electrical Engineering at Brigham Young University-Idaho with a minor in physics. Having been born and raised in the urban tech hub surrounding Seattle, Washington, I have been interested in computers and everything technology for as long as I can remember. I've always had a strong desire to understand how things work at their deepest levels. That desire has led me to further my education in computer technology and the physical science behind how computers work and the materials of which they are made down to the atomic level. That same motivation I have will enable me to assist you in gaining a thorough understanding of whatever knowledge you lack. I offer instruction in a personable and amusing teaching style that can be catered to meet your needs.

The subjects I tutor include but are not limited to:

SCIENCE: physics, up to first year college level difficulty, and the basic physical sciences covered in K-12 (not including life sciences such as biology)

TECHNOLOGY: introductory programming in Python, C/C++, and Scratch programming languages. Robotics using C and the Arduino platform.

ENGINEERING: first year college-level electrical/computer engineering courses including computer systems, logic gates, intro to digital systems, and circuit analysis, as well as introductory physics for engineers

MATH: all levels of math covered elementary school through to college level calculus (not including statistics)

I can't wait to meet you!
Hobbies
-SCIENCE!: outer space, NASA, physics, engineering, electric cars, robots, Elon Musk, and all the likes - computers: coding, Arduino projects, custom-built PCs, video games (FPS and RTS games especially), e-sports, etc. - music: I can play piano, ukulele, tuba, other brass instruments, as well as sing in choirs - photography and filmmaking - bicycling, hiking, and nature - movies: sci-fi & fantasy such as Star Wars, Star Trek, Marvel, DC, Harry Potter, LoTR, The Hobbit, and many others
Tutoring Subjects
AP Japanese Language and Culture
Basic Computer Literacy
C
C++
College Physics
Computer Programming
Electrical and Computer Engineering
Electrical Engineering
Electronics
Elementary School Math
Elementary School Science
Engineering
High School Government
High School Physics
Middle School Science
Music
PC Basic Computer Skills
Piano
Programming Languages
Programming Tools
Robotics
SAT Subject Test in Japanese with Listening
SAT Subject Tests Prep
Scratch
Technology and Coding