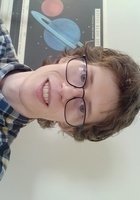 Liam
Certified Tutor
I think that every person has the ability to learn whatever they set their mind to, and I joined Varsity Tutors to help them achieve that goal. I am currently a senior at Oberlin College, and I am graduating this May with a major in Mathematics and a minor in Computer Science. I tutor in both math and computer science, but I also tutor in chemistry, which I pursued as a major before settling on math and computer science.
Education & Certification
Undergraduate Degree: Oberlin College - Bachelor in Arts, Mathematics
Hobbies
I enjoy reading, playing chess, going on runs, and listening to podcasts.
Tutoring Subjects
Abstract Algebra
Basic Computer Literacy
C
Complex Analysis
Computer Architecture
Computer Programming
Discrete Math
Elementary School Math
High School Computer Science
Java
Linear Programming
Programming Languages
Real Analysis
Technology and Coding