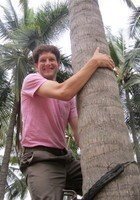 Eric
Certified Tutor
I love learning and I love travel. I have taught or studied on every continent except Antarctica! I grew up in Colombia in a multilingual setting. My father introduced me to Latin at the age of eight and I was hooked. I earned my BA in classics at Oxford University and my PhD at the University of North Carolina, Chapel Hill. A highlight of my time in the Tar Heel state was receiving the Tanner Award for Teaching Excellence on court during half-time at the UNC-Duke basketball game.

Since then, I have taught a wide range of humanities courses at a liberal arts college in Minnesota. I also help students prepare for college standardized tests and improve their writing. I love working one-on-one with students to help them achieve their goals. I got my head start being homeschooled by my mom and I really benefitted from the opportunity to learn at my own pace. Student evaluations most frequently comment on my enthusiasm and approachability. You can see my academic profile at https://gustavus.edu/profiles/edugdale

Thanks for reading!


Hobbies
I love traveling, though this passion has been on pause recently for obvious reasons. I have led study abroad courses to India, Italy, and the United Kingdom. Other hobbies include gardening, cycling, and playing tennis. I volunteer teaching English to recent immigrants, most of them from the Democratic Republic of Congo. Who could have guessed that I would be using my school French in Iowa!