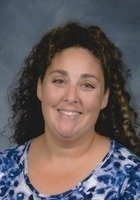 Candace
Certified Tutor
I attended Texas A & M University-San Antonio and received my Bachelors in Interdisciplinary Studies. I also have my Masters from Concordia University-Portland
in Career and Technical Education. This is a field that helps those students who are not looking for a 4 year university, but a 2 year degree, technical trade, or just guidance in what career path that will make them happy. I have been teaching high school for over 5 years and I enjoy every day that I spend with my students. I have have helped students with passing the STAAR test and the English I and English II EOC STAAR exams. In addition to these exams, I have also helped high school seniors prepare for the TSI (formally the Accuplacer) exam so they are college English ready.

I tutor in English, from elementary through 1st year college English. I love to help students with their writing so they can create beautiful essays. English, I believe, is the subject that many students have the most difficulty with.

My tutoring style is talking with the student, finding out what their big issues are, and working with them to help build their confidence.
It is important that my students feel comfortable with the content they are learning from me. I look at every situation as a small barrier for us to get through together, it is never "your" difficulty, it is "ours".
Education & Certification
Undergraduate Degree: Texas A M University-Kingsville - Bachelor of Science, Multi-/Interdisciplinary Studies, General
Graduate Degree: Concordia University-Portland - Masters in Education, Vocational-Technical Education
Hobbies
I love to watch the Houston Astros and I cross-stitch in my down time. I also enjoy spending time with my husband.
Tutoring Subjects
Elementary School Reading
High School English
High School Level American Literature
High School Writing
Middle School Reading
Middle School Reading Comprehension
Middle School Writing
STAAR EOC Prep