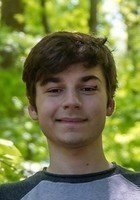 Benjamin
Certified Tutor
I'm taking a gap year before I go to Cornell University next fall, where I'll major in computer science. During my gap year, I've tutored several local high school students, and while I was in high school, I regularly volunteered as a math tutor for Mu Alpha Theta, the math honor society. I've tutored everything from math to history, but my favorites are the STEM fields, like algebra, physics, and computer science. My favorite part of tutoring is getting students to that "click" moment where a weird concept suddenly makes sense, and STEM is where it happens the most. To get there, we work through a problem until we figure out a way to solve it that makes sense to both of us. I'm also experienced at SAT prep - I've gotten great scores on both sections of the test, so I can help bring any student's scores up. I know how important the SAT is for college admissions, and having just survived the process, I have lots of advice to share. When I'm not studying or doing work, I spend my time running (I was a cross-country captain in high school!), reading, programming, or hanging out with friends.
Education & Certification
Undergraduate Degree: Cornell University - Bachelor in Arts, Computer Science
Test Scores
SAT Composite (1600 scale): 1580
SAT Math: 790
SAT Verbal: 790
AP Chemistry: 5
AP Calculus AB: 5
AP Calculus BC: 5
AP Statistics: 5
AP English Language: 5
AP US History: 5
AP Spanish Language: 5
Hobbies
Running, computer science, reading, and hiking!
Tutoring Subjects
Computer Programming
Datamining
High School Chemistry
High School Computer Science
High School Physics
Middle School Science
Technology and Coding