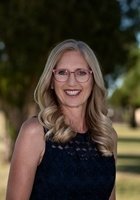 Julie
Certified Tutor
I began teaching in 1988. I have a deep passion for helping students be successful. I have taught students in Africa, Asia, Europe, Montana (University of Montana), Ohio (Wilmington College), California (Heald Business College) and Arizona (Arizona State University). I have my masters degree in English with a certificate in teaching English as a second language from the University of Montana and an undergraduate degree from The University of Cincinnati.
I teach ESL, composition, essay writing, reading, phonics and grammar. I look forward to working with you and helping you be the best you can be.

Hobbies
I am an avid reader, hiker, runner and traveler. My most recent stamps in my passport are from Tunisia, Malta, Lebanon, Qatar, Germany, Iceland, Denmark and Norway.
Tutoring Subjects
Adult Literacy
College English
High School English
High School Writing