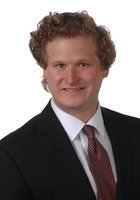 Timothy
Certified Tutor
Credentialed financial professional interested in pursuing opportunities in education instruction. Has a deep passion for mathematical applications to financial and economic analyses.

Comes with a proven successful history of rising in duties and responsibilities throughout career. Have worked within investment and actuarial consulting firms. Able to analyze market data to support valuation conclusions primarily related to equity and debt investments. Several years of experience performing valuation of pension liability amounts based on projected future cash flows.

Excellent communication, presentation and interpersonal skills. Comfortable being a part of senior management with the ability to influence decision makers. Able to translate complicated technical information in a straightforward and cohesive manner that is easily understood by varying audiences. Consistently manage multiple tasks while meeting deadlines.

Education & Certification
Undergraduate Degree: Illinois State University - Bachelor of Science, Mathematical Statistics and Probability
Hobbies
reading, playing with my kids
Tutoring Subjects
Business
CFA
CFA - Chartered Financial Analyst - Level 1
Exam IFM - Investment and Financial Markets
Exam LTAM - Long-Term Actuarial Mathematics
Exam P - Probability
Exam STAM - Short-Term Actuarial Mathematics
Professional Certifications