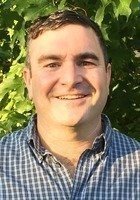 Matthew
Certified Tutor
I am currently living in New Zealand, but will be heading back to Wisconsin in January. I completed my PhD in Epidemiology at the University of Wisconsin Madison and a MPH at Emory University in Atlanta. I have been working and managing research and analytics project for the past decade and really have a passion for teaching Statistics and Biostatistics at all levels.

I have been an instructor of Business Statistics and SAS at the University of Wisconsin - Madison and the Auckland University of Technology. I was always excited when students came in for office hours as I could more easily check understanding and tailor the learning for each student. I am outgoing and energetic and enjoy finding the unique strengths of each student.

I enjoy hiking, biking, stain glass, camping, and piano. I lived in Germany for several years, and am fluent in conversational German. In fact I used to teach German to high school and junior high students. Good luck reaching your goals.





Hobbies
Hiking, Biking, German Lanaguage, Crocheting, Stain Glass, Camping, and Piano
Tutoring Subjects
Business
Epidemiology
Medicine
Public Health