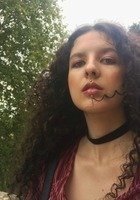 Najia
Certified Tutor
I recently graduated with an MSt in American literature with Distinction from the University of Oxford; I also have a dual BA in Linguistics and in English and American Literature from the University of Rochester.

I have extensive experience working with students from middle school to college age through NY MasterMinds and Academic Challenge Bowl. My work with these organizations has involved tailoring information to students' age range and skill level, keeping students encouraged and involved in gameplay, and dealing with conflicts and problems as they arise.

I have also worked with students and peers in a one-on-one capacity. My TASC tutoring involves working with a student to create a study plan across a broad variety of subjects, staying attentive to what teaching methods are most compatible with their style of learning, and adapting lessons, explanations, and example sets accordingly.

I am a strong writer, and have experience as a copy editor, content editor, and editor in chief of various small publications, including Cahoodaloodaling literary journal. This background has helped me work with peers to improve the content and style of their essays.

I am conversant in French, having studied it for about ten years and spent part of each year with family who speak French in the household.

I played viola with my school orchestra from 3-12th grade and into college, and am also self-taught on guitar and ukulele.

Education & Certification
Undergraduate Degree: University of Rochester - Bachelor in Arts, Linguistics
Graduate Degree: University of Oxford - Master of Arts, British Literature
Test Scores
SAT Composite (1600 scale): 1570
SAT Math: 740
SAT Verbal: 800
SAT Writing: 780
GRE Verbal: 170
SAT Subject Test in Biology E/M: 800
SAT Subject Test in Literature: 800
Hobbies
Viola, guitar, music composition, writing poetry
Tutoring Subjects
American Literature
AP English Language and Composition
British Literature
College English
College Level American Literature
Conversational French
Elementary School English
French 1
GRE Subject Test in Literature in English
GRE Subject Tests
High School English
High School Level American Literature
High School Writing
Middle School English
Middle School Writing
Music
SAT Subject Test in Biology E/M
SAT Subject Tests Prep
Viola