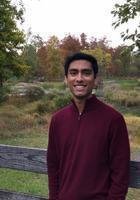 Ansh
Certified Tutor
I am an undergraduate student at the University of Michigan who loves to learn all sorts of subjects and how they work together in any profession. I love working with people and helping each individual realize their potential. I work well in groups, love to teach and don't worry, I am very patient especially when a subject is new to someone. I understand some of the frustrations with difficult classes and I know how to approach many of the classes younger students take since I have a younger sister whom I've taught for many years.

My long term goals are to work in healthcare, either as a physician or administrator that helps the healthcare system run more efficiently to provide the care and resources that patients require.
Test Scores
ACT Composite: 33
ACT English: 34
ACT Math: 34
ACT Reading: 31
ACT Science: 33
Hobbies
I love to go running, biking, fishing, and anything that's outdoors! For my first 2 years at Michigan, I was on a competitive fusion dance team traveling the country dancing on stage and working to qualify for a national competition. Dancing was a great experience and some of my closest friends were on the team. Now, I like to spend more time working on myself and started learning how to cook! Let me know about some of your hobbies. You may be surprised that I've probably tried it at some point in my past.