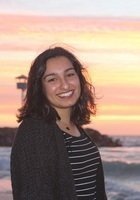 Anjali
Certified Tutor
I am a senior at UC Berkeley studying Molecular Cell Biology and minoring in Global Poverty and Practice. My long term goals include going to Medical School and working to reduce health disparities in low-income communities around the world, with a focus on maternal health. I am passionate about helping students because I am a student myself. I understand how difficult and irritating it can be to not understand something and not know who to ask for help, especially at a big school. I recently took the MCAT and struggled a lot with studying strategies and learning the tricks of the exam. I want to make it easier for those who are studying hard and putting in effort but still having difficulty excelling. My favorite subjects to tutor are biology and chemistry because I find them to be the most interesting. I especially have a lot of experience tutoring general chemistry to college students both during class and outside of class. I strongly believe in the importance of accepting that you need help and asking for it. This doesn't make you inferior, but actually makes you stronger for being able to understand your own needs and take action to improve your situation. With this action, you have a better chance of succeeding in your education. This is my learning philosophy! Outside of tutoring, I enjoy hiking, reading nonfiction and fiction books, hanging with my friends, and dancing.
Test Scores
Biological and Biochemical Foundations of Living Systems: 130
Psychological, Social, and Biological Foundations of Behavior: 129
Hobbies
I like to dance, read nonfiction and fiction books, hike, look at the stars, and hang out with my friends!
Tutoring Subjects
College Biology
Elementary School Math
Elementary School Reading
High School Biology
High School Chemistry
IB Psychology
MCAT Biological and Biochemical Foundations of Living Systems
MCAT Psychological, Social, and Biological Foundations of Behavior
Middle School Science
Other
Social Sciences
Study Skills
Study Skills and Organization