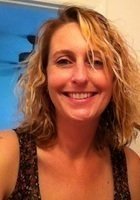 Cheryll
Certified Tutor
While the original intention for obtaining my teaching degree was to better help my child through his educational struggles, I soon realized that my son was not the only one who needed help. That is when I made the decision to expand my horizons so that I could assist all children through the learning process.

When it comes to tutoring students, I believe my unlimited amount of patience and my nurturing personality are one of my assets. I am also highly organized and pay great attention to detail. When it comes to a computer I am well-versed and have the ability to find a variety of information online that will assist me in my tutoring. This will help me in providing creative instructional practices.

I believe everyone learns in different ways so what works for one child may not work for another. If a topic is fun and interesting it will be remembered for the experience. Working hands on, keeping a child actively involved will keep he or she interested. The biggest complaint I hear is that school is boring. Using interactive activities centered on the child will keep them interested. Experiencing something for yourself, rather than reading about it, is a more memorable experience. And it is the experience, no matter how big or small, that the child will remember.

My passion is to help children learn and succeed and I think that it shows in the way I interact with children and how they respond to me.

Hobbies
Reading, walking, watching movies, playing with my doggies, crafting