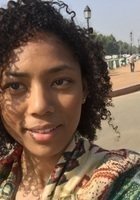 Samantha
Certified Tutor
Growing up in Jamaica, I remember what it was like at times to not understand the lesson content. I needed help and I felt that my teachers, for whatever reason, didn't give me the help I needed. It led me to become and independent learner but it also made me want to help others if I could. When I teach, I hold that memory and try my best to reach out to my students.

I graduated from the University of the West Indies, Mona, with a BSc in Psychology, and have since attained both TEFL and TEYL certificates to have an understanding of how to teach ESL to non-native English speakers. I am now working on a nanodegree for front end development.

I have taught ESL extensively in junior high schools in Japan. During my seven years in Japan, I have taught toddlers in kindergarten, elementary school students, as well as business English to companies such as Toyota, and have also developed an advanced command of the language.

It is my passion to teach and I hope to continue to help all who come my way!