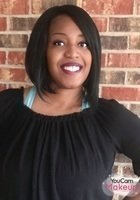 Regina
Certified Tutor
Hello! I have a BS in Human Development from Howard University and a Masters of Business Administration. I am currently pursuing my Doctorate in Educational Leadership and Administration.

I have over a decade of teaching experience in Elementary Education. I am currently homeschooling my six children and tutoring students. I also have led a youth development program working with grades 3-12 in academic enrichment. When I tutor I teach to the students learning style. I like to give students adequate time to practice and feel confident in their work. I have a collection of my own supplemental material to teach from and welcome resources from student and parents.

My experience is within reading, writing, language arts, math, Geometry, Algebra, vocabulary, study skills, speaking, business, marketing, technology, WordPress, web development, Social Networking, college entrance tests, teacher certification exams, and writing personal statements. For college students, I can tutor in basic subjects as well as content related to your business or education degree.

Feel free to contact me to learn more, ask and schedule your session.
Hobbies
Reading and Writing
Tutoring Subjects
Academic Coaching
ACT Aspire
Adult ESL/ELL
Adult Literacy
Advertising
African-American History
AP Research
AP Seminar
Applied Mathematics
Art
Basic Computer Literacy
Business
Business Enterprise
Business Ethics
Business Writing
CLEP Prep
CLEP Human Growth and Development
CLEP Principles of Management
CLEP Principles of Marketing
CogAT Prep
College Application Essays
College English
College Math
COMPASS Prep
COMPASS Mathematics
COMPASS Reading
COMPASS Writing Skills
Computer Programming
Digital Media
Elementary School
Elementary School English
Elementary School Math
Elementary School Reading
Elementary School Science
Elementary School Writing
Ethics
Expository Writing
Fiction Writing
GED Math
GED Reasoning Through Language Arts
GED Science
GED Social Studies
Graphic Design
GRE Subject Test in Mathematics
GRE Subject Tests
Handwriting
High School Business
High School Writing
Human Development
IB
IB Business & Management
K-11th Grade Standardized Tests Prep
Law
Mac Basic Computer Skills
Management
MAP Prep
Marketing
Microsoft Excel
Microsoft Office
Middle School English
Middle School Reading
Middle School Reading Comprehension
Middle School Science
Middle School Writing
Other
PC Basic Computer Skills
Personal Finance
PRAXIS
Project Management/PMP
Social Networking
Social Sciences
Social Work
Spelling Bee
Study Skills
Study Skills and Organization
Technology and Coding