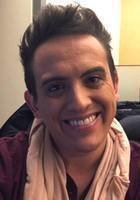 John
Certified Tutor
I am a professional tutor who is passionate about empowering students through the process of learning. I believe in instilling students with problem solving skills to enhance their educational endeavors for a lifetime. I believe in utilizing strategies of learning from my backgrounds in Communication Studies, Women's Studies Gender Studies, and Social Work. I believe in the potential for any student to achieve an A in every course and in every assignment. More so than a grade, my goal is to help students fall in love with the process of learning. Feedback from successful students has allowed me to recognize how effective the approaches toward tutoring mine have been for all learning types in various academic subjects. While my tutoring students gain much from their experiences from me, I equally gain so much insight and knowledge from the students I tutor. I have a passion for learning and my goal is to help every student I tutor to cultivate their own passions for learning to open up a world of academic and vocational opportunities.
Test Scores
ACT Composite: 31
ACT English: 36
ACT Math: 32
ACT Reading: 32
ACT Science: 28
SAT Composite (1600 scale): 1440
SAT Math: 740
Hobbies
YouTube Creator product reviews, energy work, self-help psychological life improvement books, audiobooks, exercise, program partner for story writing platform Medium, and personal specialist in Communications via social media platforms through undergraduate Bachelor's degree in Communication Studies from Loyola University Chicago.
Tutoring Subjects
AAI - Accredited Adviser in Insurance
ABIM Exam - American Board of Internal Medicine
Academic Coaching
Accompaniment
Accordion
ACCUPLACER Prep
ACCUPLACER Arithmetic
ACCUPLACER ESL
ACCUPLACER ESL - Listening
ACCUPLACER ESL - Reading Skills
ACCUPLACER ESL - Sentence Meaning
ACCUPLACER Language Use
ACCUPLACER WritePlacer
ACSM - American College of Sports Medicine
ACT Aspire
Administrative Law
Adult ESL/ELL
Adult Literacy
Advertising
Aerospace Engineering
African History
African-American History
AFSP - Annual Filing Season Program
Agricultural Science
AIS - Associate in Insurance Services
Algorithms
American Council on Exercise (ACE)
American Literature
American Sign Language
Analytical Chemistry
Ancient and Medieval Heritage
AP Computer Science Principles
AP Music Theory
AP Research
AP Seminar
AP Studio Art: 2-D Design
AP Studio Art: 3-D Design
AP Studio Art: Drawing
API - Associate in Personal Insurance
Applied Mathematics
Arabic
Archaeology
Architecture
ARM - Associate in Risk Management
ARM-E - Associate in Management-Enterprise Risk Management
ARM-P - Associate in Risk Management for Public Entities
Arrangement and Composition
Art
ASCP Board of Certification - American Society for Clinical Pathology Board of Certification
Astrophysics
ASVAB Prep
AU- Associate in Commercial Underwriting
AU-S - Associate in Commercial Underwriting-Strategic Techniques
Audio Engineering
Audition Prep
AWS Certification - Amazon Web Services Certification
Bagpipes
Banjo
Bar Exam
BASIC
Basic Computer Literacy
Bass Clarinet
Bass Guitar
Bass Trombone
Bassoon
Beatbox
Bioinformatics
Biomechanics
Biomedical Engineering
Biotechnology
Bongo
British Literature
Bugle
Business
Business Analytics
Business Calculus
Business Enterprise
Business Ethics
Business Writing
C
C#
C++
CAE - Certified Association Executive Exam
CAIA
Cantonese
CAPM - Certified Associate in Project Management
Cardiology
CCA-N - Citrix Certified Associate - Networking
CCNA
CCNA Cloud - Cisco Certified Network Associate-Cloud
CCNA Collaboration - Cisco Certified Network Associate-Collaboration
CCNA Cyber Ops - Cisco Certified Network Associate-Cyber Ops
CCNA Data Center - Cisco Certified Network Associate-Data Center
CCNA Industrial - Cisco Certified Network Associate-Industrial
CCNA Routing and Switching - Cisco Certified Network Associate-Routing and Switching
CCNA Security - Cisco Certified Network Associate-Security
CCNA Service Provider - Cisco Certified Network Associate-Service Provider
CCNA Wireless - Cisco Certified Network Associate-Wireless
CCNP - Cisco Certified Network Professional
CCP-V - Citrix Certified Professional - Virtualization
Certified Ethical Hacker
Cell Biology
Cello
Ceramics
Certified Medical Assistant Exam
Certified ScrumMaster
CFA
CFP
CGEIT - Certified in the Governance of Enterprise IT
Chemical and Biomolecular Engineering
Chemical Engineering
CHSPE Prep
CIA - Certified Internal Auditor
CIC- Certified Insurance Counselor Exam
CIMA
Certified Information Systems Auditor
CISM - Certified Information Security Manager
CISSP - Certified Information Systems Security Professional
Civics
Civil and Environmental Engineering
Civil Engineering
Civil Procedure
Clarinet
Classics
CLEP Prep
CLEP American Government
CLEP American Literature
CLEP Analyzing and Interpreting Literature
CLEP Biology
CLEP Calculus
CLEP Chemistry
CLEP College Algebra
CLEP College Composition
CLEP College Composition Modular
CLEP College Mathematics
CLEP English Literature
CLEP Financial Accounting
CLEP French
CLEP German
CLEP History of the United States II: 1865 to the Present
CLEP Human Growth and Development
CLEP Humanities
CLEP Introduction to Business Law
CLEP Introduction to Educational Psychology
CLEP Introductory Psychology
CLEP Introductory Sociology
CLEP Natural Sciences
CLEP Precalculus
CLEP Principles of Macroeconomics
CLEP Principles of Management
CLEP Principles of Marketing
CLEP Principles of Microeconomics
CLEP Social Sciences and History
CLEP Spanish
CLEP Western Civilization I: Ancient Near East to 1648
CLEP Western Civilization II: 1648 to the Present
Clinical Psychiatry
Clinical Psychology
CMA - Certified Management Accountant
CMT - Chartered Market Technician
CogAT Prep
College Application Essays
College Economics
College English
College Level American Literature
College Physics
COMLEX
Comparative Literature
COMPASS Prep
COMPASS Mathematics
COMPASS Reading
COMPASS Writing Skills
Compilers
Composition
CompTIA
CompTIA A+
CompTIA Network+
CompTIA Security+
Computational Problem Solving
Computer Architecture
Computer Game Design
Computer Programming
Computer Theory
Concurrency
Conducting
Conga Drums
Constitutional Law
Contemporary Architecture
Conversational French
Conversational German
Conversational Italian
Conversational Mandarin
Conversational Spanish
Cooking
Cosmology
Cost Accounting
Cost Analysis
CPA
CPC - Certified Professional Coder (medical billing)
CPE - Certificate of Proficiency in English
CPFA
CPPA - Certified Professional Public Adjuster
Criminal Law
CRISC - Certified in Risk and Information Systems Control
CRM - Certified Risk Manager
Cryptography
CSAP/ TCAP Prep
CSET - California Subject Examinations for Teachers
CSRM - Certified School Risk Manager
CSS
Czech
Data Structures
Datamining
Developmental Biology
Didgeridoo
Digital Media
Discrete Math
Distributed Computing
DJing
Drawing
Drum
Drum and Percussion
Dutch
EA - Enrolled Agent
ECAA Prep
ECAA/ERB
Econometrics
Electrical and Computer Engineering
Electrical Engineering
Elementary School
Elementary School English
Elementary School Science
Emergency Medicine
Endocrinology
Entomology
Epidemiology
ERB CPAA
ERB CTP
ERB WrAP
Ethics
Euphonium
Evidence
Evolutionary Biology
Exam FM - Financial Mathematics
Exam IFM - Investment and Financial Markets
Exam LTAM - Long-Term Actuarial Mathematics
Exam P - Probability
Exam PA - Predictive Analytics
Exam SRM - Statistics for Risk Modeling
Exam STAM - Short-Term Actuarial Mathematics
Expository Writing
Family Law
FCAT 2.0 Prep
FE Exam - Professional Licensed Engineer Fundamentals of Engineering Exam
Fiction Writing
Fiddle
Financial Accounting
Finnish
Florida EOC Assessment Prep
Flute
French Horn
FRM
FS Exam - Professional Licensed Surveyor Fundamentals of Surveying Exam
Gastroenterology
GATE/ TAG Prep
GCSE Prep
GCSE Biology
GCSE Chemistry
GCSE Combined Science
GCSE English
GCSE Latin
GCSE Maths
GCSE Physics
GED Math
GED Reasoning Through Language Arts
GED Science
GED Social Studies
Genetic Engineering
German 1
German 2
German 3
German 4
GIAC - Global Information Assurance Certification
GMAT Analytical Writing Assessment
Graphic Design
High School English
High School Level American Literature
High School Physics
High School Writing
IB Physics
Journalism
Law
Medicine
Microsoft Office
Middle School Reading
Middle School Reading Comprehension
Middle School Writing
Music
Other
Philosophical Ethics
Professional Certifications
Quantum Physics
Social Networking
Social Sciences
Spelling Bee
Study Skills
Study Skills and Organization
Technology and Coding
Zoology