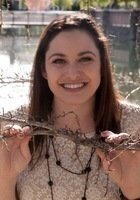 Morgan
Certified Tutor
My name is Morgan. I have previously worked as a resource specialist at a middle school in Salinas, California. I work with the IEP team to create IEPs and facilitate IEP meetings. I also implement IEP goals in the classroom. I also collaborate with general education teachers to help students in the general education classrooms. The most rewarding part for me is being able to co-teach math in order to help not only resource students but also general education students as well.
I have previously been an elementary resource specialist in Trona California. I had kindergarten through 6th grade students on my case load during the 2013-2014 school year. I was a para-educator at Luis Obispo High School from January 2010 to March 2013. In the summers of 2011 and 2012 I was a para-educator in the 5th/6th mild/moderate Special Day Class at CL Smith Elementary in San Luis Obispo. Through these positions I have found much enjoyment in my students. My favorite aspect of working with high school is transition services. My heart is to help student learn how to be successful in post-school life. I enjoyed working with the elementary students because I was able to do many hands on projects. I firmly believe that students learn best when they are able to explore the material for themselves.
From March 2011 to February 2013 I was a behavior interventionist. In this position I ran intervention sessions at the students home. Part of the session included teaching parents how to incorporate intervention techniques into their daily life. Through my almost two years as an interventionist I learned how to successfully collaborate with parents.
Education & Certification
Undergraduate Degree: The Masters College and Seminary - Bachelor of Science, Biology, General
Graduate Degree: Brandman University - Certificate, Education of the Learning Disabled
Tutoring Subjects
American Sign Language
Art
Criminal Law
Developmental Biology
Elementary School
Elementary School English
Elementary School Math
Elementary School Reading
Elementary School Science
Elementary School Writing
Executive Functioning
High School Biology
High School English
IB Visual Arts
Law
Learning Differences
Mac Basic Computer Skills
Microsoft Excel
Microsoft Office
Middle School English
Middle School Reading
Middle School Reading Comprehension
Middle School Science
Middle School Writing
Personal Finance
Plant Biology
Sports, Exercise and Health Science
Technology and Coding
Theatre
Video Game Design