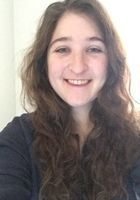 Cassandra
Certified Tutor
Tutoring has always been an outlet Half the tutoring I've done has been paid gigs while I was in high school, and the other half has been tutoring Philadelphia high school students while in college at the University of Pennsylvania. At the University of Pennsylvania, I obtained my Bachelor of Arts in Political Science and Communications. I have a plethora of experience tutoring kids in subjects from English to math to writing to history. I'm especially adept at tutoring algebra and writing, and I love to tutor algebra. I also have top-notch test scores and can help your child learn the best test-taking strategies. More than anything, though, I love tutoring because I like to help people break down complicated concepts and simplify them to help foster a stronger overall understanding. Watching a student's face the moment a concept "clicks" is unbeatable. Because of that, my teaching style is one mired in patience and adaptability. I want to be patient while the student wraps their head around a concept, and adapt to their specific learning ability. Outside of tutoring, I work in legislation and spend my days researching policy.
Test Scores
SAT Composite (1600 scale): 1550
SAT Math: 760
SAT Verbal: 740
SAT Writing: 770
Hobbies
I enjoy reading, watching movies, and doing yoga along the Schuylkill in my spare time!
Tutoring Subjects
Adult Literacy
American Literature
College English
Conversational Spanish
Elementary School Math
Elementary School Reading
Elementary School Writing
High School English
High School Level American Literature
High School Writing
Middle School Reading
Middle School Reading Comprehension
Middle School Writing
Spanish 1
Spelling Bee