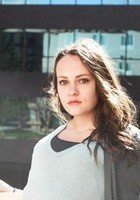 Jenna
Certified Tutor
Hello, friends! A year ago, I graduated from the University of Central Oklahoma with a bachelor of arts in philosophy, as well as minors in English and psychology. This past year, I tutored privately while planning my wedding, got married, and moved to Houston to continue my studies in graduate school at Houston Baptist University. I've worked in education since I was 17, and I plan to stay in the business until I become a teacher.

I have a passion for learning and teaching. From my education as a homeschool student through my time in college, I read and learned eagerly, and I love sharing my talents and experience with others. Successful learning does not rely solely on being "smart," but on commitment, curiosity, and consistency in learning. These qualities made me into a summa cum laude graduate, and this is the model of learning I now offer to students.

During college at UCO, I tutored hundreds of students as a departmental philosophy tutor, helping them to achieve the grades they needed and grow in understanding from their learning opportunities. I also worked with specific classes as a supplemental instructor, developing lesson plans and leading study groups designed to help students develop better study habits tailored to a discipline. In my senior year, I interned for a logic instructor and taught multiple sections of one of his freshman courses in addition to working one-on-one with several of his students. While employed at Kumon early in college, I worked with children as young as kindergarten through 12th grade in reading, writing, math, and study habits.

I intend with all of my students to equip them not only to succeed in their immediate academic goals, but also to develop the ability to learn on their own, to love learning, and to do the best that they can with every opportunity that they have been given.

When I'm not studying or tutoring, I enjoy baking, eating the baked goods, being outside, and playing with dogs. Having a baked-goods picnic outside with dogs would be ideal.

Test Scores
GRE Verbal: 163
Hobbies
Philosophy, Literature, Baking, Singing, Nature, Dogs
Tutoring Subjects
College Application Essays
Elementary School Reading
Elementary School Writing
High School English
High School Writing
Middle School Reading
Middle School Reading Comprehension
Middle School Writing
Other