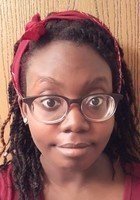 Nicole
Certified Tutor
I love words and language and all the experiences that come from understanding each. English, writing, and Spanish have always come naturally to me, but I realize that from the outside looking in, they can be daunting subjects to master. That's why I also enjoy tutoring. I want to be able to help students overcome struggles and difficulties and form their own enjoyment of the subject.
I began tutoring in high school, while in the National Honor Society. I'd meet with students, once or twice a week, and assist them with their online classes. Even before that though, I always enjoyed helping my younger siblings with their homework.
Outside of tutoring, I play viola in a community orchestra, am always looking for a new recipe to try cooking, and making an attempt to learn tennis.
Education & Certification
Undergraduate Degree: North Lake College - Associate in Arts, English
Test Scores
ACT Composite: 28
ACT English: 30
ACT Math: 24
ACT Reading: 33
ACT Science: 25
SAT Verbal: 710
Hobbies
Reading, Writing, Viola, Cooking, and Tennis
Tutoring Subjects
Conversational Spanish
Elementary School Writing
High School English
High School Writing
Middle School Writing
Music
Other
Spelling Bee
Viola
Violin