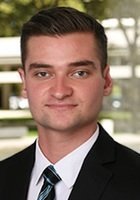 Robert
Certified Tutor
I have two younger brothers who I tutored very often while we were growing up. I graduated from UCLA two years ago, and my younger brothers are currently in high school and middle school.

As the oldest sibling, it was very rewarding for me to have the opportunity to provide mentorship and academic support to my brothers. As a tutor at Varsity Tutors, I strive to provide this same level of support to every one of my students.

Math has always been my strongest subject, and I enjoy learning and teaching it. As a Business Economics major at UCLA, I used Calculus to create Economic models in the majority of my courses. As an Investment Banker, I strengthened my understanding of fundamental mathematical concepts by creating and applying complex financial models to a wide variety of situations.
Education & Certification
Undergraduate Degree: University of California - Los Angeles - Bachelors, Business Economics
Test Scores
ACT Math: 34
ACT Reading: 33
Tutoring Subjects
Business
CLEP Prep
CLEP College Algebra
College Accounting
College Economics
Financial Accounting
High School Accounting
High School Economics
High School Physics
Macroeconomics
Microsoft Excel
SAT Subject Tests Prep
Technology and Coding