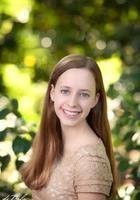 Elizabeth
Certified Tutor
As a Washington University in St. Louis mechanical engineering senior, I have vast tutoring experience. Starting in high school I founded a tutoring club to help struggling students, and also tutored high-level math lane students on the side. After that, I went on to work at Mathnasium, where I tutored groups of up to 5 students at a time in math ranging from 1st grade to 8th grade. I am very familiar with how to motivate students who are bored or dont feel like doing work! As a freshman in college, I also volunteered by teaching reading and math to underprivileged students through Each One Teach One.

In college, I went on to be employed as an engineering tutor for over 50% of my high level mechanical engineering courses. I have been a teaching assistant for Circuits, Mechanics 3, and Heat Transfer courses. I am confident in classes such as Calc 3, Physics I, CAD hand drafting or PTC Creo CAD, Differential Equations, Introduction to Electronics Circuits, Engineering Math A & B, Mechanics 1, 2, & 3, Materials Science, Thermodynamics, Design of Thermal Systems, Heat Transfer, Vibrations, Dynamics and Vibrations. I can help with full-length lab reports, as well as other upper level division mechanical engineering classes.

I attended one of the most rigorous high schools in California, taking the highest level math lane classes offered each year. I am very confident in my abilities to teach or tutor in difficult Algebra, Geometry, Trigonometry, and Calculus classes, as well as math subjects below that level.

Outside of tutoring, I am working towards an entrepreneurship minor. I am currently the COO and CFO of two early-stage medical device startups, and I will be employed as a healthcare consultant after the upcoming summer. I working towards an MBA. I have a passionate for dance, and performed in hip hop, Latin jazz, and Bollywood performances throughout college.

Everyone has the potential to be whoever they want to be, if they put in the hard work. I motivate my students to find their own drive, becoming independent, hardworking and passionate about what they do. Each student is unique, and once I figure out what they find fun, I incorporate it into my teaching style. My ultimate goal is to give you the most out of each tutoring session.

Test Scores
SAT Math: 730
Hobbies
Entrepreneurship, Medical Startups, Dancing, Skiing, Baking, Sewing
Tutoring Subjects
Elementary School Math
Elementary School Science
Engineering
High School Physics
MATLAB
Mechanical Engineering
SAT Subject Test in Mathematics Level 1
SAT Subject Tests Prep
Statics and Dynamics
Technology and Coding
Thermodynamics
What is your teaching philosophy?
Women can't be engineers. Yes, they can! Everyone has the potential to be whoever they want to be if they put in the hard work. I motivate my students to find their own drive, becoming independent, hardworking, and passionate about what they do. Rather than giving a student the answer to their question, I ask them well-crafted questions until they come to the answer themselves, learning how to learn on their own. Most importantly, I make learning fun! Each student is unique, and once I figure out what they find fun, I incorporate it into my teaching style. Hate math, but love biking? Let's find the circumference of a bike wheel.
What might you do in a typical first session with a student?
In a typical first session, I would ask a student what their background, goals, and needs are. Are they struggling in math or just need some homework help? Are there any exam dates coming up and how will they prepare? What can I do to help them? What are their strong and weak points? What is their learning style? If they are younger, I would ask them about their favorite subjects are in school. I would also briefly talk about the activities they enjoy doing outside of school so that I can incorporate these topics in my teaching to make it fun, and show them why it is important to learn. If I have a more advanced student who knows exactly what they want, I can dive right into a subject on the first day. The goal is to maximize the value you get out of each tutoring session.
How can you help a student become an independent learner?
One of my biggest priorities is teaching my student how to learn on his or her own. I do this by asking them questions until they reach the answer themselves. By going through this thought process, the student gains intuition on what they can do in future situations when they get stuck. I think it is important to discuss with a student what they can do to study or learn more effectively, depending on their situation. In addition, I may encourage a student to practice or study outside of tutoring sessions if this is something they are willing to do.
How would you help a student stay motivated?
I have tutored students before who did not want to be tutored. To motivate them, I talk with them about what they like to do for fun or what type of person they want to be in the future, and then relate that to the work we are doing. If they are not excited about a specific topic, I may change my teaching style to make it more entertaining, or alternate between topics to keep them engaged. I continue to stay patient no matter how restless the student may become.
If a student has difficulty learning a skill or concept, what would you do?
If a student has trouble with a concept, I begin by listening to them very carefully. What is their question and what part of the concept do they not understand? Then, I try my best to answer their question. If they don't understand a topic in general, I review with them what they already know and break things down from simple to more complex. If it helps, I walk them through derivations for deeper understanding. Oftentimes there are also multiple ways to conceptualize a topic or explain it, so I will try different things.
What strategies have you found to be most successful when you start to work with a student?
When I start to work with a student, I find that clearly outlining goals and expectations is a good first step to success. Other strategies I use include are listening carefully, helping them come to the answer rather than giving it to them, using songs, phrases, colors, drawings, or other fun ways to remember things, and giving students tasks to complete outside of a tutoring session.
How would you help a student get excited/engaged with a subject that they are struggling in?
To help a student get excited about a subject they are struggling in, I relate it to activities they like and the conception of who they want to be in the future. I also show them interesting applications of a subject to real life or to important things. As a mechanical engineer, I have a good idea of how basic math concepts can be used to create something significant in real life. There are many ways to make learning fun, for example remembering what a sin wave or cosine wave looks like through a break dancing arm wave dance. When I study normally, I tend to make interesting drawings and acronyms within my notes to remember concepts quickly and effectively. I find teaching very fun - my excitement will come across!
What techniques would you use to be sure that a student understands the material?
After a student asks a question and I help them come to the answer, I may ask them another similar question to confirm that they really understand it. Oftentimes a student may know how to answer one question but does not understand the entire pattern they need to follow. Asking them to repeat to me what they learned out loud is helpful. If I see a student a second time, I could ask them about a concept we went over from the last time we met to confirm they truly retained the information.
How do you build a student's confidence in a subject?
I build confidence in my students by showing them that I am confident in them myself. If I think they can do it, then they think they can do it. I emphasize that nothing comes easily, but with enough hard work, you can get anywhere. If a student gets a question incorrect, I focus on what they can do next to get it right next time rather than telling them they are wrong. In my first mechanical engineering class exam, I received an F grade, but I didn't give up because I knew it could be done. I worked harder and harder on every exam after that until I became the grade A student I am now. My struggling students have the potential to do the same!
How do you evaluate a student's needs?
To evaluate a student's needs, I ask them questions to understand where their strong and weak points are. What do they struggle in with their homework, exams, studying methods, or practice tests? What previous background do they have in a subject? If they are a younger student, I am willing to have a conversation with their parents via phone or email beforehand. If they are an older student, they will tell me what they need. Sometimes I read between the lines to decide which teaching strategies will work best for them based on their subject background and learning style.
How do you adapt your tutoring to the student's needs?
Each student is unique, both in terms of personality and learning style. I quickly change my teaching style depending on the student. If they are outgoing, playful, and humorous, I might use songs, games, and jokes to help them remember and understand concepts. If they are a "get-to-the-point" more serious student, I will help them answer their questions quickly and effectively. Some students benefit more from a discussion about strategies on how to get a better grade or score outside of the tutoring session, whereas others simply need someone to keep them focused for an hour or have questions they need answered. I have worked with a variety of students, particularly in math. I have tutored students ranging from elementary school to middle school ages, D and F students in high school, high school students in high-level math lane classes, as well as mechanical engineering students my age and above.
What types of materials do you typically use during a tutoring session?
I typically ask my student to bring any materials with them from their class (textbooks, class notes) or a test prep book if they have one. I will do the same, referring to my old notes, homework, textbook, and especially any online resources I find beforehand. I have an iPad, which is especially useful for writing out mathematical equations neatly in different colors and making drawings to help show concepts. I can transfer this information through text or email rather than over video chat to make it easier to read. Before a tutoring session, I will prepare practice problems and content, as well as confirm what chapter or topic my student is currently learning or would like to focus on. If they have specific questions, I may ask them to send them to me beforehand so that I can be sure to answer them effectively during the tutoring session. If there is anytime I am unable to answer a question during a tutoring session, I will spend time afterward trying to figure it out. Then I will send the student a text or email with an explanation as soon as possible.
How do you help students who are struggling with reading comprehension?
To help students with reading comprehension within a math problem, I review any difficult vocabulary and discuss the meaning of certain words. If we are going over a lengthy word problem, I might ask my student to draw a picture of the situation to understand it better.