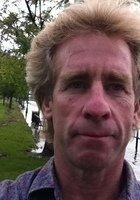 Nathan
Certified Tutor
I volunteered to teach an ESL class in Israel in 1995. I have assisted in an Iowa after school tutoring program for three years. I enjoyed substitute teaching in Iowa school systems, then became a social worker for families facing challenges for two years.

I was born and raised in Chicago then moved to the suburbs. I grew up playing hockey and participated in many sports in high school. I enjoy creating art and appreciating the art others create. I believe that whether someone cooks, fixes cars, listens to their friends, hangs out or any of the other billions of activities, they are expressing themselves-and that is art.

When I teach-I ask questions because I be people are capable of discovering the answers. No two people learn the same way. Some people need to see it, some need to hear it, some need to just dive in and explore, some need to move around; most are some of each. I want people to do well. The first session will always contain a fair amount of getting acquainted and I promise to do my share of listening.
Hobbies
Tai Chi, guitar, percussion, vocals, abstract drawing, chess, athletics, martial arts, yoga, photography, writing, neuroscience, cosmology, weather
Tutoring Subjects
Adult ESL/ELL
Adult Literacy
High School English
High School Writing
Middle School Reading
Middle School Reading Comprehension
Middle School Writing
Other
Social Sciences
Study Skills
Study Skills and Organization
What is your teaching philosophy?
I perceive that students process information through visual, auditory, tactile or combinations of those stimuli. Students treated with respect tend to respond more positively than when faced with authoritative modeling. Subjects that are taught with pragmatic application tend to be understood and practiced with fewer promptings than pure theory.
What might you do in a typical first session with a student?
I would introduce myself, and ask open-ended questions to see in common ground might be established. After roughly fifteen to twenty minutes of initial conversation, I would then probe their concept of the pertinent subject matter, and begin from where they are. I feel that rapport is essential to teaching.
How can you help a student become an independent learner?
In the course of becoming acquainted, discovering hobbies and interests would allow me to personalize subject matter so that they might be encouraged to apply the material in their life pursuits.
How would you help a student stay motivated?
Motivation varies according to what each person values. If a student desired to become an athlete, a reminder that good grades are essential to attend a school of interest, or that scholarships are effective as long as they maintain a commendable GPA. For those who may be uncertain of their future, character, a sense of accomplishment, or achieving something they can never lose may be a strategy.
If a student has difficulty learning a skill or concept, what would you do?
I would evaluate my teaching method, ask them if they have issues with reading, processing, etc., try to seek support from family members and ask their support and, of course, ask advice from the tutoring company staff.
How do you help students who are struggling with reading comprehension?
I would, first, break down subject matter into small, digestible pieces. The student may have issues with interpreting letters, face family issues distracting them, fear ridicule when trying to read or simply may not see the point of learning. If there are issues extending beyond the scope of my job description, I would desire to work as a team with other professionals who may become involved.
What strategies have you found to be most successful when you start to work with a student?
Laughter tends to put people at ease in more than half of those I have assisted. I attempt to convey that, though I am there to assist, I am human just like them, and that I want them to do well.
How would you help a student get excited/engaged with a subject that they are struggling in?
I would find something in the subject to which they may relate. If someone had no interest in algebra, specifically quadratic equations, but they enjoyed art, I might show them fractal art designs. Some fractals are comprised of compound quadratic equations in the numerator and repeat infinitely.
What techniques would you use to be sure that a student understands the material?
Sometimes I would ask them to teach me a portion of what I just taught them. I might ask questions about what they thought of certain subject elements. I might completely change the subject for a few minutes, and then bring in a related topic later with questions subtly related to what they were taught.
How do you build a student's confidence in a subject?
I believe in setting small goals-accomplishment is a great confidence builder.
How do you evaluate a student's needs?
I first study information concerning subjects they have taken. I try to establish learning patterns and where those patterns occur.
How do you adapt your tutoring to the student's needs?
I strive to be culturally sensitive. In addition, if a student easily distracted, I may increase the learning pace and cut sections into smaller units per session. If a student is very serious, then I will encourage their ability to focus and maintain that intensity level.
What types of materials do you typically use during a tutoring session?
Pen, pencil, paper, laptop and things relating to the subject. Sometimes art supplies stimulate creativity in a vast array of subjects. Once, I brought an exercise ball to a session because the student was usually in constant motion. They were able to sit on the ball and remain in one spot for 45 minutes.