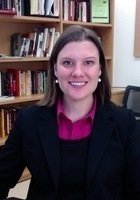 Jennifer
Certified Tutor
I have been a professor of History for 9 years, with a focus on modern Europe. My research is on immigration to Germany from Turkey in the postwar era. I have also worked as a writing and reading comprehension tutor, a tutor for learning German as a second language, and a tutor for the GRE. I served as an AP European History reader (grader) for 4 years. I have also lived in Germany for 4 years and enjoy travel more than anything. I enjoy one-on-one tutoring and making a difference in students' lives and futures.
Hobbies
cycling, hiking, swimming, bird watching
Tutoring Subjects
American Literature
AP English Language and Composition
AP German Language and Culture
British Literature
CLEP Prep
CLEP German
College Level American History
College Level American Literature
College World History
COMPASS Writing Skills
Conversational German
Expository Writing
German 1
German 2
German 3
German 4
GRE Subject Test in Literature in English
GRE Subject Tests
High School English
High School Geography
High School Level American History
High School Level American Literature
High School World History
High School Writing
HSPT Language Skills
SAT Subject Test in German with Listening
SAT Subject Tests Prep
World Civilization
What is your teaching philosophy?
In one-on-one tutoring, it is important that I listen to the student to learn what the student's main concerns and fears are in test taking. I also try to break down complicated materials into multiple examples that can make the subject more accessible using humor as much as possible. I learn best in a visual manner -- lists or charts -- and with mnemonic devices. Most importantly, I am good at thinking on my feet and adapting to each student's personalized needs.
What might you do in a typical first session with a student?
I would get to know the student, his or her interests, and his or her relationship with the topic to be studied. I would look for any barriers--such as fear or poor past behavior on tests--to discuss general study strategies. I would also outline what we could achieve working together to set the right expectations on both sides. I would try to have one fun example as well.
How can you help a student become an independent learner?
Becoming an independent learn comes from seeing good studying modeled, practiced, and then refined. I would review with the student ways of learning that were useful and less useful with tricks on how to study smarter--with synthesis rather than memorization. Making connections that are easier to remember and help students deal with new situations they might encounter on a test.
How would you help a student stay motivated?
I would set "smart goals" -- specific, measurable, attainable, realistic, and timely -- to help the student learn to break down an ominous task into smaller action items. I would have a reward system and positive feedback as well. Staying motivated often comes from many smaller successes that help one feel accomplished and encouraged. Also, fun examples help fight against restlessness.
If a student has difficulty learning a skill or concept, what would you do?
I would look for clues as to what specifically the difficulty is. I would then practice with the student, modeling examples. I would then allow the student to try different, smaller examples of increasing difficulty to build confidence along the way.
How do you help students who are struggling with reading comprehension?
Reading comprehension is tricky to teach, but also quite rewarding. I often model "reading" first. Looking for how the passage is structured, topic sentences, and main points. Then looking for examples of the main points. I have had students write an outline from the reading and also rewrite sentences in their own vernacular language. I have had them try to explain the reading to a child as well. Many times, I find that the student has a fear of reading texts from a different time period or in a different format--e.g. poetry--and conquering this fear is the first step to comprehending the text.
What strategies have you found to be most successful when you start to work with a student?
Making the expectations clear is a key first step. What can the student expect from me and, in turn, what can I expect from the student? Outlining what we will be doing when we are together and when we are apart is part of this process as well. I also try to set a tone of a helpful person who is there as a friend but is also a professional who is trained in these fields.
How would you help a student get excited/engaged with a subject that they are struggling in?
I find humor the best way to get people to relax -- unexpected examples or role-playing (e.g. explaining a text). Comparing the student's favorite song lyrics to poetry might be an example of how to make the material more relatable. In terms of history, I always make sure to focus on cause and effect and why something matters. How does it relate to issues in society today?
What techniques would you use to be sure that a student understands the material?
Assessment is the best way for me to tell if a student has understood an idea. A student can either try and explain something to me orally or take a small practice test. It is always a good idea to have assessments that model the specific exam format the student will be facing.
How do you build a student's confidence in a subject?
Building confidence is extremely important and confidence comes from success. Starting small with tasks accomplished and concepts understood builds a basis with which to advance. Communicating praise and approval is also a key step in building confidence as well as communicating how to improve in a manner that is not discouraging but helpful. It could be as simple as the language chosen, for example: "I wonder what would happen if we swapped these two sentences?" or "This is really close, and I can see why you would write that, but it might imply a different meaning ..."
How do you evaluate a student's needs?
Evaluating a student's needs is tricky. It often depends on a student's ability to communicate his or her needs. It can also come through assessment, but that can take time. Listening closely is how I would begin to evaluate my students' needs.
How do you adapt your tutoring to the student's needs?
Mental agility is very important in adapting to students' needs. It can easily be the case that a planned assignment fails, is frustrating, is confusing in ways not previously considered, or just inexplicably doesn't work. Being prepared with backup examples and simply being able to think on one's feet is the best way to remain adaptive. Assessment also plays an important role: it allows to me judge when I need to adapt.
What types of materials do you typically use during a tutoring session?
I try to tutor with a simple pen and paper since these are the things most students will have with them during an exam. I also try to have the student do the writing, drawing, and underlining, because, again, these are the skills the students will need to draw on during an example. I could use visual aids and practice exams as well, but it is usually more effective to not "teach at" a student in a one-on-one setting, as they remember more and learn more by doing.