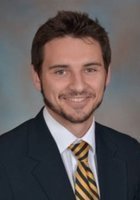 Rick
Certified Tutor
Providing guidance in science and mathematics to help students understand the real-world applications of scientific and mathematical concepts in their everyday lives. I have a B.S.E. in Aerospace Engineering and a B.S. in Sustainable Energy Materials and Technology, and I am pursuing my M.S. in Aerospace Engineering.
Test Scores
SAT Composite (1600 scale): 1380
SAT Math: 700
Hobbies
Baseball, Softball, Football, Weight Lifting
What is your teaching philosophy?
Learning science and mathematics through real-world applications that show how concepts can actually be used to solve real problems.
What might you do in a typical first session with a student?
I'd ask them about topics they feel uncomfortable with, as well as understanding how they learn so I can tailor my sessions to their style.
How can you help a student become an independent learner?
By changing their perspective on a topic from one of uncertainty to confidence so they know that they have the tools to solve any problem they are given.
How would you help a student stay motivated?
By continually reassuring the student that they are making progress, telling them about how I have struggled in the past, and how I found success through continuous practice.
If a student has difficulty learning a skill or concept, what would you do?
I'd approach the concept from a different angle to see whether a new approach allows the student to gain more insight into the topic.
What strategies have you found to be most successful when you start to work with a student?
Having the student explain the concept back to me in their own words. I have found that if you can explain a concept to another person, then you obtain a more well-rounded understanding of that topic.
How do you help students who are struggling with reading comprehension?
For students struggling with reading comprehension, I would likely issue short readings that cover 3-5 main themes and have the student highlight those main themes when they summarize the excerpt to me shortly after reading it.
How would you help a student get excited/engaged with a subject that they are struggling in?
I think that the excitement for a subject stems from the moment when the student understands how they can apply that piece of learning in their everyday lives. Identifying that connection is key to engaging the student.
What techniques would you use to be sure that a student understands the material?
I'd have the student explain the topic back to me in detail to ensure that they fully grasp the concept. Having students create their own practice problems, and solving them, also demonstrates mastery (or a well-rounded understanding) of the material.