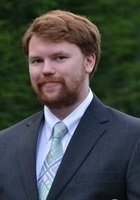 Matt
Certified Tutor
I first started tutoring during my sophomore year at Duke University, where I earned a Bachelor's of Science in Computer Science with a minor in Mathematics. To contrast my coursework, I decided to tutor writing and explore my passion for language. My approach to tutoring focuses on exploring ideas and problem solving strategies until they become intuitive. I believe that intuition is the key to long term command of a subject. A difficult problem becomes far more digestible when viewed from a new angle. Once an idea makes sense at its core, it is far easier to learn its nuances and develop strong habits for applying it in the future. In my free time, I enjoy acting, playing music, creative writing, and tabletop gaming.
Education & Certification
Undergraduate Degree: Duke University - Bachelors, Computer Science
Test Scores
SAT Composite (1600 scale): 1580
SAT Math: 770
SAT Verbal: 800
SAT Writing: 770
SAT Mathematics Level 2: 800
SAT Subject Test in Physics: 740
SAT Subject Test in U.S. History: 780
Hobbies
Music (percussion), Creative Writing, Drama, Improv, Tabletop Gaming, Video Games
Tutoring Subjects
AP Computer Science
AP Computer Science A
AP Computer Science Principles
AP US History
Applied Mathematics
C
C++
College Computer Science
Computer Programming
Data Structures
Discrete Math
High School Computer Science
Java
Operating Systems
Other
SAT Subject Test in Mathematics Level 2
SAT Subject Tests Prep
SAT Verbal
Summer
Technology and Coding
What is your teaching philosophy?
No concept is impossible to understand. There are as many ways to view an idea as there are people to view it. My job is to help find the angle where everything clicks.
What might you do in a typical first session with a student?
My first goal is to get to know a student and see how s/he approaches different types of problems. Then we can identify problem areas and give context to future sessions by discussing new approaches to these areas.
How can you help a student become an independent learner?
I prioritize long-term skills over short-term fixes. In particular, I focus on developing strategies for solving new problems and cultivating a robust understanding of core principles.
How would you help a student stay motivated?
It is always key to keep goals in mind, and demonstrate how individual tasks lead to those goals. If there is an aspect of the subject matter that is discouraging the student, I would also explore fresh ways of looking at the material that may be less frustrating or intimidating.
If a student has difficulty learning a skill or concept, what would you do?
First it is important to pinpoint what aspect of the problem is giving the student trouble. Then I would help them develop a process for applying the skill or concept correctly. Then it just comes down to three words - practice, practice, practice!
What techniques would you use to be sure that a student understands the material?
The best indicator that a student has command of the material is when they can explain it in their own words. For subjects like math, I see how comfortably a student can switch from one type of problem to another.
How do you build a student's confidence in a subject?
As we work toward the student's goals, I take care to break the process down into smaller steps. Mastery is not a sudden change; it is a series of incremental advancements. I emphasize that each small success shows tangible progress toward the student's main goal.
How do you adapt your tutoring to the student's needs?
I try to get to know a student as soon as possible. How do they see the world? How do they currently understand the material? Where do they struggle, and where are they comfortable? A bit of empathy can go a long way, especially when approaching the material through the student's frame of reference. Knowing where a student's motivation comes from also helps me determine if a student requires firmer guidance or a little extra patience.
How do you help students who are struggling with reading comprehension?
I teach that the trick to reading comprehension on standardized tests is to go in with a strategy and stay focused. It is very easy to get distracted or overwhelmed by unnecessary information. Read the questions first, narrow down your choices, and practice until you are comfortable and quick in a test situation.
What strategies have you found to be most successful when you start to work with a student?
For standardized testing, the most reliable strategy is to handle hard questions by ruling out the obviously wrong answers, making a reasonable guess, and coming back to the question later. For learning new material, the most helpful strategy is for a student to summarize the material in their own words.
How would you help a student get excited/engaged with a subject that they are struggling in?
If a student is not engaged with a subject, it may be refreshing to frame the material in a new light. Finding a novel analogy for the material or linking individual facts together as part of a cohesive "narrative" can make difficult material feel more accessible and even fun!
How do you evaluate a student's needs?
Mostly, it's about listening to the student - what they emphasize, and what they don't. Tutoring is about helping with subject matter, but it's also about helping students conquer their insecurities. If I am in contact with the student's parents, their insight is also very important to me.