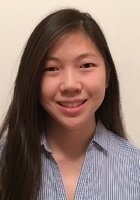 Rachel
Certified Tutor
I am currently a medical student at Johns Hopkins University. I received two Bachelor of Science degrees in Biochemistry and Mathematics at the University of Maryland, College Park. At College Park, I tutored for three years as a Math Success Coach, tutoring college-aged students one-on-one or in small groups varying levels of math, from pre-algebra to calculus 3 to linear algebra and number theory. I was also an undergraduate teaching assistant for Organic Chemistry 2 for two years, as well as for Genetics for one semester. My TA roles included overseeing labs, teaching discussion sessions, helping students understand concepts and assignments during office hours, and being available to my students in general. I believe in a student goal-centered, individualized approach to tutoring, and in making sessions as relaxed and stress-free as possible. I believe in celebrating victories, no matter how small, and in learning from mistakes and weaknesses with an optimistic eye. I enjoy tutoring math the most, not only because I find the subject matter itself fun and exciting, but also because I love seeing that moment on a students face when a problem clicks or when he or she figures out an answer his- or herself. Outside of class, I enjoy reading, movies, volleyball, watching college basketball, and socializing in general.
Education & Certification
Undergraduate Degree: University of Maryland-College Park - Bachelors, Biochemistry and Math
Graduate Degree: Johns Hopkins School of Medicine - Current Grad Student, Medicine
Test Scores
SAT Composite (1600 scale): 1590
SAT Math: 770
SAT Verbal: 790
SAT Writing: 800
MCAT: 39
Hobbies
Reading, Volleyball, Food, Traveling
What is your teaching philosophy?
There are no stupid questions. A student should never feel ashamed or guilty. Teaching/tutoring should be student-centered and as individualized as possible.
What might you do in a typical first session with a student?
Talk about what that student's short-term and long-term goals are for these tutoring sessions. Make clear what his or her expectations are in these tutoring sessions. Discuss weaknesses and strengths the student currently thinks he or she has, and maybe do some assessments to reveal others.
How can you help a student become an independent learner?
I can help by introducing students to a variety of studying and learning strategies. I understand that teaching and learning are very individualized processes, and that different approaches work for different students. The key to finding a way that works is never giving up.
How would you help a student stay motivated?
I believe in setting realistic, step wise goals, and in celebrating each achievement. It is important to not let the student feel like he or she is stuck, or that his or her learning is becoming stagnant. It we ever felt like the next goal was getting further and further away, I would change approaches and/or re-evaluate the goal.
If a student has difficulty learning a skill or concept, what would you do?
First, I would make sure that the student understands that it is okay to find something difficult. Then I would try to elucidate what exactly is making it difficult - is it the way the skill or concept is being approached? Is there a gap in the foundation needed to learn the skill or concept? Is it the way the skill or concept is being explained? I would hone in on exactly what the student is finding difficult, and then try many different approaches to make it more graspable.
How do you help students who are struggling with reading comprehension?
I believe that the best way to enhance reading comprehension is to read! However, reading should not be limited to the books on the school's curriculum. I would try to find books that the student would enjoy, and try to foster an enjoyment of reading itself. The more you read, and the more you talk about the stories, the better your reading comprehension and critical thinking becomes.
What strategies have you found to be most successful when you start to work with a student?
I have found that getting the know the student, and also letting him or her get to know me, on a more personal level helps the student become more relaxed and open to my teaching. What are the student's hobbies and interests? What was the last movie he or she saw? What is his or her dream vacation? I believe in building a rapport with my students so that they know they can trust me with not only their education, but also their worries and concerns.
How would you help a student get excited/engaged with a subject that they are struggling in?
I would try to find cool or weird videos, articles, and other real-life applications of the subject to show that life extends beyond school, and that things that seem boring or uninteresting now can be really exciting later.
What techniques would you use to be sure that a student understands the material?
I believe that the best way to show mastery or understanding of the material is to teach it yourself. So once I or the student thought he or she has a good handle on the subject matter, I would reverse our roles. I would pretend that I am the student, and ask the student to teach me the material.