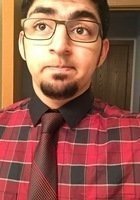 Retesh
Certified Tutor
I believe that each and every student is capable of becoming to reach their potential with the subjects they take. I've been a student myself for essentially my whole life and the most important lesson I've learned would be that it is important to never lose hope when life gets tough. It's okay if you don't have all As every semester in every class: what's more important is your effort. One's efforts and hard work are what really measure one's intelligence and my goal as a Varsity Tutors instructor are to not only teach my students the material but also encourage them to work hard as school is simply a test of what the real world will be like. As I head onto to graduate school this fall, I look forward to getting to know my students!
Tutoring Subjects
Anatomy & Physiology
CAHSEE Mathematics
College English
High School English
Other
Summer
What is your teaching philosophy?
My teaching philosophy is a combination of using my own experiences with subjects with my students along with maintaining a clear communication method so that my students will be able to understand the material. I personally believe that we are all capable if we put in the effort.
What might you do in a typical first session with a student?
I'll try to get to know the student by asking questions about school and how things are going for them. Then I'll slowly introduce the material and see how we can create a baseline of what to work on.
How can you help a student become an independent learner?
I would help my students become independent by constantly asking them questions and trying to get them to interact with not only me but also with the material being taught. It will help boost their confidence and lead to them becoming more independent.
How would you help a student stay motivated?
I would encourage them throughout the sessions, as it'll help them feel like the material isn't too impossible.
If a student has difficulty learning a skill or concept, what would you do?
I would break it down slowly so the student will be able to understand a little at a time and then reinforce that by asking questions about the little things at a time.