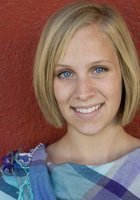 Rebecca
Certified Tutor
Hi everyone! I'm Rebecca, an energetic, passionate and inspired educator. Originally from Sunnyvale, CA, I first discovered tutoring while an undergraduate student at the University of California, Irvine, helping international students improve their English skills. As I progressed through undergrad and graduate school, I expanded my tutoring repertoire to include French and Japanese, two languages I have studied extensively, while obtaining my teaching credential in Music. After graduate school, I headed to Japan to live and teach ESL for two years, before heading back to Silicon Valley to purse a career as a music teacher. I'm super excited to be your ESL, French, Japanese, or Music Theory tutor!

I find that the one-on-one environment of tutoring is truly special because of the tutor-student relationship that can develop over time, and the learning and growth that can happen in such a setting. I love interacting with my students and helping them directly, and I love seeing students meet their learning goals.

When I'm not teaching or tutoring, I enjoy singing karaoke, hiking, traveling, photography, and learning languages (currently working on Spanish!)
Hobbies
Singing, dancing, travel, photography, languages
What is your teaching philosophy?
I believe students learn best when they are in an environment that is comfortable, safe, and where they feel empowered to learn. I strive to create an open, honest and non-judgmental environment in all of my tutoring sessions. Students should feel comfortable taking risks during tutoring sessions, expanding outside of their comfort zone, and should feel safe under the guidance and expertise of the tutor. Through tiered learning progress and baby steps (or big steps!), students can meet their learning goals.
What might you do in a typical first session with a student?
I'd like to have a conversation with the student to get to know the student's personality, learning style, and most importantly, their areas of growth. We can discuss where the student is and where they want to be, and in some cases, create a learning plan to help the student reach their goals. I'd also dive into the content right away--which, depending on the subject being tutored, can include pronunciation help, a short video, an introduction to basic vocabulary words, or cracking open a textbook--whatever will drive the student's success! I strive to keep my tutoring sessions engaging, fast-paced, and fun, from day one.
How can you help a student become an independent learner?
The Self-Directed Learning Cycle--Plan, Apply, Reflect, Assess, Evaluate--can be brought into lessons to help students become self-directed learners. We are lucky that there are lots of resources now which help learners to learn independently, and make even faster progress from lesson to lesson, without the tutor's presence. I'd introduce students to the basic principles of the Self-Directed Learning Cycle as well as resources for self-study in their subject matter.
How would you help a student stay motivated?
If a student does not have a tangible goal, i.e. a test or an upcoming trip to Japan, it can be difficult to stay motivated. One way to increase motivation is to create realistic, timely and step-based goals with students which they feel empowered to achieve, step-by-step. Another strategy is to provide an incentive to succeed, such as a prize or treat for reaching a certain level. There are other extrinsic ways to motivate, such as being able to watch a favorite TV show without subtitles, being able to sight-read a piano piece all on your own, or being able to converse with grandma. I'd try hard to get to the root of what will motivate my students best, and make a plan with them to hold them to high standards until they reach their goals.
If a student has difficulty learning a skill or concept, what would you do?
"If at first you don't succeed, try, try again." There are always multiple ways of approaching a concept, whether it be by different learning styles (visual, auditory, tactile, kinesthetic), or different teaching methodologies. I'd pull out all the stops, communicating closely with a student to ensure that their voice is being heard in their pathway to success. With the multitude of learning resources available to us, we'd surely find a learning style or method that works for the student.
How do you help students who are struggling with reading comprehension?
Break it down! Breaking down sentences into their constituent parts, going over the meaning of each word or phrase, and then putting them all together into an integrated whole is crucial for reading comprehension in a second language. Pointing out trends in spelling and pronunciation--which, as we know, is not always consistent--as well as carefully explaining grammatical or syntactical differences between students' first and second languages will also help students to improve their reading comprehension.
What strategies have you found to be most successful when you start to work with a student?
Close communication and getting to know each other are essential to having a great tutor-student relationship! It is very important to know your student's strengths and weaknesses in the subject matter, their learning style, their learning goals, and their hobbies, passions, and interests. Knowing this information and creating a safe and open learning space will help set up the student for success in each future lesson.
How would you help a student get excited/engaged with a subject that they are struggling in?
I strive to always find a connection between students' interests/passions and the subject matter at hand, if a natural passion does not exist already. For example, many students enjoy listening to current pop music, but haven't yet tapped into their appreciation for classical music. By applying music theory concepts to students' favored music first, we can tap into students' engagement in music, harnessing it to reach students' goals. Similarly, while learning a language, I introduce students to the pop culture of the language's culture as way to create buy-in and incentive to learn the language in a deeper way.
What techniques would you use to be sure that a student understands the material?
For language-learning, informal assessment via conversation or written responses is always helpful to assess whether learning of a concept has taken place. I find that when forms of assessment feel informal and low-risk, students perform to their best capacity. I try to have some form of informal assessment during each meeting, to help craft the plan for the next one.
How do you build a student's confidence in a subject?
Slowly but surely! When students are able to demonstrate what they can do, confidence grows. With our learning plan and baby steps, while also recognizing and responding well to setbacks, students can slowly build their confidence. Having a student complete a small task at the end of every session, for example having a 30-second conversation all in Japanese or listening to a favorite song and identifying the chord progression, is a perfect way to cap off the lesson with the student feeling confident in what they achieved.
How do you evaluate a student's needs?
I try to have some form of informal assessment at every meeting, so that we can evaluate where the student is compared to where they want to be. Depending on subject matter, this can be a conversation, a written paragraph, a tell-back of a concept, a student-led demonstration, etc. Through these assessments as well as constant ongoing formative assessment during our meetings, I'm able to help lead students in the right direction to meet their goals.
How do you adapt your tutoring to the student's needs?
All students have different learning styles as well as different interests and passions, and I try to cater to both of these in our lessons. If a student is a visual learner, I'll come prepared with visuals, a white board, a notebook, etc. If the student is a tactile learner, I'll bring manipulatives or have them do most of the writing, or move around during the lesson by acting out skits or scenes. When a student is particularly interested in something, be it a sport, a TV show, a musical artist, or another hobby, I strive to include this interest in our learning plan so that the student is more likely to feel engagement and buy-in.
What types of materials do you typically use during a tutoring session?
It all depends on the age of the student, the subject matter, and the learning style of the student. Materials I've used in the past include: a notebook/pen, a white board, Lego people, Scrabble letters, an iPad with news articles on it, a textbook, a piano. In our initial meetings, I'll try to determine which materials will work best with which student, and bring those to our meetings.