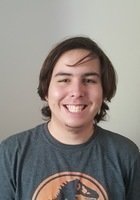 Nick
Certified Tutor
I believe that all students want to learn and that one of the largest reason students begin to struggle in a class is because they have fallen behind in some way and therefore lost confidence. My main goal as a tutor will be to restore their confidence in the subject by providing complete understanding of concepts as well as preparing them for the most complex examples so that they will not be caught off guard in the class. I also believe tutoring should be a cooperation with the student because they have the best understanding of what their class will demand.
Test Scores
ACT Math: 32
ACT Reading: 31
SAT Verbal: 740
AP Calculus AB: 5
AP Calculus BC: 5
AP Physics C: Mechanics: 4
AP English Language: 4
AP Computer Science A: 5
Hobbies
Swimming, SCUBA, Beekeeping, Programming
Tutoring Subjects
AP Computer Science
AP Computer Science A
AP Physics C: Mechanics
IB Psychology
Social Sciences
Technology and Coding
What is your teaching philosophy?
The goal of teaching should be to assist the student in reaching the answer on a general level, and I think the best way to instruct students is to create analogies to simple concepts. Usually if they can understand why the methods are what they are it helps them remember and understand more complex application of the methods.
What might you do in a typical first session with a student?
First I'd like to ask the student what they want to get out of this tutoring, whether it's preparing for a certain test or trying to practice for the subject in general. If it's for a particular test I'd want to go over provided materials by the teacher and identify where they are strong and weak. If it's for a subject area then I'd want to use some practice examples and do some memory practice for subjects that require that. Also I'd want to know where their weak area in the coursework is (homework/classwork/tests) and focus on that.
How can you help a student become an independent learner?
Teaching concepts over specific examples, as well as using analogies to help students understand the basis to different concepts, so that it's easier for them to understand the more complex problems.
How would you help a student stay motivated?
Oftentimes I find a student wants to get engaged in a class but just doesn't feel confident enough in the class, so helping them understand and correct problems typically motivates them. I was always motivated by interesting real world applications, and I think I could use examples like that to encourage a student to take an interest in the subject.
If a student has difficulty learning a skill or concept, what would you do?
If there's other work to do as well, I would take a break from the concept they are having difficulty with and switch to the other work. Once the other work is completed, we would begin to revisit the concept. I would try to use the most simplistic examples, and possibly a different method of explaining it if that's applicable.
How do you help students who are struggling with reading comprehension?
I would encourage them to begin using sticky notes when they read each chapter to summarize the chapter. This will help them later on to refresh their memory without reading the chapter, and summarizing the chapter will help them remember.
What strategies have you found to be most successful when you start to work with a student?
Using a benchmark style tutoring seems the most effective when first tutoring a student. We complete some practice problems to really identify the student's weaknesses and then go on to tutor in the areas they struggled with.
How would you help a student get excited/engaged with a subject that they are struggling in?
Create more engaging, typically applicable, practice problems. I find that one of the main reasons students don't want to study a subject is because they don't feel like it would be worth anything, but showing them real world application can re-inspire. Also with AP classes, typically showing the minimum requirements to get a 3 can help them relax and feel more confident.
What techniques would you use to be sure that a student understands the material?
Practice problems. They are the key to mastery. You move from multiple choice to short answer to extended response, and assist them along the way as they need.
How do you build a student's confidence in a subject?
Don't ever put pressure on getting the correct answer but rather understanding why the answer is correct. Also always ensure you practice concepts they understand clearly as well so they don't feel discouraged with only difficult problems.
How do you evaluate a student's needs?
Benchmark tests and student/ tutor conversation.
How do you adapt your tutoring to the student's needs?
Typically, I like to ask the student what method they think would be most effective for them, however if it's not showing progress, I usually will switch to my method of test and correct. If that is not effective, I'll typically then switch to classroom style teaching to give them the base to work off of.
What types of materials do you typically use during a tutoring session?
The tutor platform's practice question database is a very effective tool for tutoring. If I'm tutoring an AP course then I will typically also use past exams, as that material is most indicative of the possible exam material.