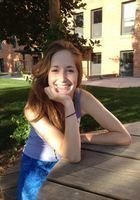 Kendra
Certified Tutor
Ive been tutoring for over four years, and am happy to offer my skills and assistance. My love for education has taken me across the globe, solidifying my commitment to all different types of students with a wide range of learning styles. In 2015, I received a U.S. Fulbright grant to work in Durban, South Africa as a tutor, teacher, and ESL program planner. My year in South Africa expanded my tutoring background from ESL (with TEFL certification) and English reading/writing to include public speaking, leadership, and study skills. The workshops and classes that I held in Durban provided an opportunity for my students to greatly improve their grades, while at the same time acquiring a set of skills that they could apply across all subject matter, through the various challenges of their education.

During my third year as an International Studies major at Dickinson College, I studied abroad in Yaound, Cameroon, where I lived with a Francophone host family and took courses at a local university. My education in French starting at the age of seven has provided me with a great command of the language. When it comes to tutoring, my strategy centers on empathy. In my sessions, I like to help my students decide how they personally prefer to learn, both independently and with assistance. We will set the learning goals together, and as a result, you will leave with a heightened sense of confidence and self-awareness. This philosophy dates back to my years at the Dickinson College Writing Center, where I worked to graduate better writers, not just better papers.

In short, my wish is that you grow not only in your grasp of the material, but as a student in general. I look forward to working with you!

Education & Certification
Undergraduate Degree: Dickinson College - Bachelors, International Studies
Hobbies
Hiking, singing, reading, creative writing
Tutoring Subjects
AP French Language and Culture
College English
Comparative Literature
Conversational French
French 1
High School English
Homework Support
Other
Study Skills
Study Skills and Organization