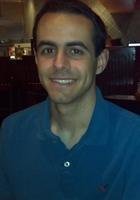 Matthew
Certified Tutor
I recently graduated from the University of South Florida where I earned a Bachelor of Science in Microbiology. While at USF, I spent two years as a part of the Chemistry Society's Tutoring Center, where I helped my fellow classmates with their classes and coursework, primarily with general and organic chemistry. During my time at the Tutoring Center, I found that I really enjoyed helping students understand their studies. I have always had a passion for helping others. In my time with the tutoring center, I earned the "Distinguished Service Award" three times. I really enjoyed learning how to best help each student succeed. Because of this experience, I intend to always include education as a part of what I do.

Outside of academics, I enjoy playing tennis and running, and am a lifelong Rays fan.
Test Scores
SAT Math: 760
MCAT Physical Sciences: 14
MCAT Verbal Reasoning: 11
Hobbies
Tennis, running, baseball
What is your teaching philosophy?
I like to work with students to make sure they understand the fundamentals of the subject first; that way each problem builds on that information, and makes things clearer.
What might you do in a typical first session with a student?
I would get to know the student, and first find out what they know about a subject, and importantly, what parts they're interested in. That way, I could structure the session to be as engaging as possible.
How would you help a student stay motivated?
School is stressful, but studying doesn't have to be. I like to make sure to stay at a pace that is best for the student. That way, they don't feel overwhelmed, and will enjoy learning much more.
If a student has difficulty learning a skill or concept, what would you do?
Take my time going over it. Everyone learns differently, which could mean repeating the concept a few times or using a different example.
How do you help students who are struggling with reading comprehension?
Reading comprehension depends on practice. For science classes, this can be daunting because of the complicated words and concepts that are used. But a good way to practice that reading skill is to step away from the immediate subject being studied and instead read about something that is in the news or that is interesting to the student.
How would you help a student get excited/engaged with a subject that they are struggling in?
I would help them connect it to real life. Words on a page will always be boring, but when we see how what we learn applies in real life, it immediately becomes much more interesting.
What techniques would you use to be sure that a student understands the material?
I like to first walk through a type of problem with a student, where we both go through each step. After that, I have them do a problem or two on their own, before we review them.
What types of materials do you typically use during a tutoring session?
I always like using a whiteboard because of the ability to draw things out and give the student a visual to work with.
How can you help a student become an independent learner?
I like to focus on engaging the student and helping them understand the fundamental concepts of the subject. Once they understand the concepts, everything else comes easier, and they will find self-study to be more rewarding.
What strategies have you found to be most successful when you start to work with a student?
I like to work together with a student through example problems until they seem reasonably confident with a concept. Then, I will have them go through a couple on their own before we review.
How do you evaluate a student's needs?
Every time I start with a new student, I like to ask them what they know. That way, I know what they are comfortable with.
How do you build a student's confidence in a subject?
If a student is not confident in a subject, I like to take things slowly. In these cases, it helps to focus on one concept and master that, before connecting anything else.