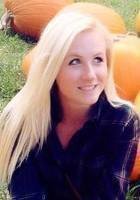 Katharine
Certified Tutor
When I was in high school, the best way to study was with friends. This evolved into more of a natural tutoring situation, and I continued to help out younger students as time went on. I took a lot of Advanced Placement tests, double digits in fact. Several courses were solely online or independent study, so I understand how to get fully prepared for an exam if you have a unique situation or simply don't click with a teacher. I'm very much for building vocabulary and concepts, and against memorization. College admissions exams and essay editing are also areas I can help a lot in.

I also love working with grade school children, from volunteering in a third grade class, a children's library, and as a child advocate in court. Especially as their educational foundation is forming, it is so important that they understand the rationale in all types of school work. To confess, math was my weakest subject until the middle of high school, and it was due to this kind of teaching. I can remember being praised for learning even and odd numbers "early," but only understanding "every other number is even, so the other ones are odd!" Multiple choice questions don't give students or their teachers enough feedback to truly ensure their learning.

If it isn't too sad to admit it though, I do have a favorite standardized test: LSAT logic games. Just like Sudoku, but with scholarship money on the line. Anyone is capable of getting 100% on this section if he or she learns to love it (Reading Comprehension is another, less cheerful story). I am willing to provide amicable laughter in response to your Elle Woods jokes.

I am about to finish Bachelor's degrees in Marketing and Advertising from the University of Florida, and will be attending law school in the fall.
Test Scores
SAT Composite (1600 scale): 1490
SAT Math: 700
SAT Verbal: 760
LSAT: 170
AP Statistics: 5
AP English Literature: 5
AP English Language: 5
AP US History: 5
AP Psychology: 5
AP Human Geography: 5
AP U.S. Government & Politics: 5
AP Comparative Government and Politics: 4
AP Microeconomics: 4
AP Macroeconomics: 5
AP Art History: 4
Hobbies
Pinteresting, traveling, reading, college football, event planning, mediocre baking
What is your teaching philosophy?
Teach the concepts so you can handle any question yourself- understand, don't memorize.
What might you do in a typical first session with a student?
Determine where they are starting from, ask for syllabi for AP courses or practice test scores for other standardized tests, get to know the student and their preferences.
How can you help a student become an independent learner?
Focus on applying themes and ideas so they can see various different angles available to any concept that comes up.
If a student has difficulty learning a skill or concept, what would you do?
Figure out why! The worst thing is to gloss over the hard parts, because they'll come back to haunt you. Always have a solid foundation.
How do you help students who are struggling with reading comprehension?
Figure out why- one misunderstood word can change the interpretation of an entire passage. There's likely a specific reason for a missed comprehension; nobody is "bad at reading," it just becomes frustrating for them when corrections aren't fully explained.
What strategies have you found to be most successful when you start to work with a student?
Have them catch me up to speed with their knowledge and check comprehension by having them explain topics to me, which is more comprehensive than just answering a multiple choice question.
How would you help a student get excited/engaged with a subject that they are struggling in?
Realize that in history or government, this isn't just an academic exercise-- this really happened and could've been affecting your life! Literature/language- how does this tool help express something? What opportunities come from these tools? You could use them too! SAT/ACT/LSAT- testmakers are challenging you to see if you can identify the one small difference that makes one answer the most correct; think like a trap-maker.
What techniques would you use to be sure that a student understands the material?
Now you tutor me on it! If a student can thoroughly explain a concept themselves, they can apply any question to it. Always understand why an answer is wrong.
How do you build a student's confidence in a subject?
Confidence follows when they can understand the rationale behind topics; nothing is arbitrary!
How do you adapt your tutoring to the student's needs?
Meet them where they are, don't expect a certain personality, avoid the tedious and find their room for improvement.
What types of materials do you typically use during a tutoring session?
History or popular literature- there are many funny, more in-depth videos on the internet to contextualize topics. Reading Comprehension and LSAT- question sets but also ask "what other questions could they have asked here" AP Lit/Lang- Scavenger hunt through their assigned books, short reading, etc., for literary devices, because the point is their flexible function AP US History/Gov- incorporate current events. Which type of federalism is being advocated for here? etc.
How would you help a student stay motivated?
Praise & continuing to call back previous concepts going forward, which reinforces understanding and gives them the opportunity to draw connections and feel good about their understanding.
How do you evaluate a student's needs?
It depends on the student and subject- but not long practice tests!