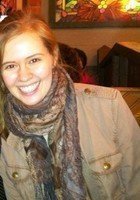 Katherine
Certified Tutor
I have been tutoring in one form or another for the majority of my life. As an older sibling who was homeschooled, I spent many hours with my younger siblings, working through languages, math, sciences, history, and English.

I graduated summa cum laude from the University of Wisconsin, River Falls, majoring in Spanish and International Studies and minoring in Political Science. During those three years, I spent time abroad in both Japan and Spain, teaching English to children ages 10-18 while immersing myself in the target cultures. After graduation, I worked for three years at a Fortune 500 company, further developing my interpersonal, oral, and written communication skills. I also taught free Spanish sessions there to employees in all walks of their language-learning paths: from complete beginner to advanced learners wanting a review.

While the corporate world provided valuable experience, I decided to further pursue my passions of languages and learning. I left the corporate sector and have obtained a Master's Degree at the Middlebury Colleges Language School program, where for four summers I took a pledge to speak only Spanish and complete a semesters worth of work in six weeks! For the interim 10 months each year, I tutored, worked with refugees and immigrants on job readiness, and assisted with database management at a non-profit.

I love reading, writing, traveling (both locally and internationally), learning new languages, sports, dancing (especially Lindy Hop!), and spending time with husband, family and friends.

I look forward to speaking with you and helping you/your student increase in knowledge and comprehension, achieve ambitious goals, and find a new/renewed love of learning.

Hobbies
Reading, Traveling, Sports, Lindy Hop
What is your teaching philosophy?
1) I believe in my students. I assure them that ANY subject can be learned --including subjects like Spanish or English, that people assume come naturally or don't come at all. It often takes hard work, a different perspective, and perseverance, but no subject is off limits to an active learner. My students have my 100% support. 2) I cater my teaching style to the student's personality. As an active observer, I interact with students and see how they learn best (whether visually, through hearing, kinesthetically, or a mix of all three), and I develop lessons and activities that are effective for their learning style. While sometimes we just have to memorize things in certain subjects (finicky grammar or spelling in English, conjugations in Spanish, etc.), I always have exercises that make the student apply the concepts learned, instead of simply rote memorization. 3) When appropriate, I ask my students to set SMART goal(s): goal(s) that are specific, measurable, attainable, realistic, and timely. In this way, they take more responsibility for their learning, see the subject as more attainable with a concrete finish line in mind, and enjoy the satisfaction of crossing that finish line. Starting students with this concept now will also help as they make their way into college and professional careers.
What might you do in a typical first session with a student?
I would take 10-20 minutes to get to know them, their personality, their interests, how they currently feel about the subject they are studying, and where they want to be at the end of our tutoring session. Making sure both of us are on the same page regarding sessions and expectations is of utmost importance to their success.
How can you help a student become an independent learner?
I help students become independent learners by encouraging them in independent reading and discovery, providing them with a goal and giving them the opportunity to map out their own path to get there, and sharing about my independent discoveries and how they have helped shape who I am.
How would you help a student stay motivated?
There are different ways to motivate students, and they largely depend on the student's personality, interests, and goals. Some students are intrinsically motivated, and only need a reminder of the goal of an "A" or a job well done. For others, it takes reminding them of what could come of success in the subject - continued participation in sports, qualifications for better jobs, etc. Still others who are not interested in the subject need something to spark that interest; for those students, I figure out what their passions and hobbies are and figure out a way to incorporate the subject we are studying into his/her passions or hobbies.
If a student has difficulty learning a skill or concept, what would you do?
First, I would approach the skill/concept in a different way. Sometimes a student needs to see it from multiple angles before the concept clicks. If it is still difficult to understand, I would try relating his/her hobbies or likes into the skill/concept, to encourage the excited side of the student to engage in further thinking.