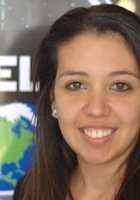 Merna
Certified Tutor
I'm currently a graduate student at George Mason University in Virginia studying Environmental Science and Policy. I have tutored middle school and high school students in the past in Math (specifically Algebra) and English for ESL students. In addition, because of my academic background in Biology and Ecology, I'm interested in tutoring these subjects as well. Finally, I have basic background in Spanish from different courses and thesis work that I'm currently working on in Peru. From that, I feel confident in tutoring Spanish level one. I have also worked with non-students as well who had interest in specific subjects. I'm open to help tutor all ages.

All of my courses that I'm taking at GMU are in the evening; therefore, I'm available Monday - Friday from 9am - 3pm. I'm also available on the weekends and can be flexible on those days.
Hobbies
Photography, hiking, and swimming
Tutoring Subjects
Arabic
College Biology
College English
Ecology
High School Biology
High School English
Spanish 1
What is your teaching philosophy?
Every student has a different way of learning and understanding. I find it very useful to understand these preferred ways to communicate better with the students and engage them.
What might you do in a typical first session with a student?
Learn more about their learning/studying habits, their weaknesses and strengths, and their career goals/passions.