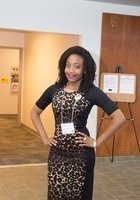 Oge
Certified Tutor
It has always fascinated me, the art of language: speaking it, writing it, reading it, and teaching it. I graduated with a Bachelor of Arts degree in French Language with First Class Honors from Covenant University in Nigeria, and although I didn't get a chance to formally teach in the classroom, I have always had an interest in passing on the knowledge of such a beautiful language, having tutored students on Grammar and Reading comprehension. My keen eye for editing and proofreading essays was developed in my undergraduate years, and has continued even after graduate school! I am also able to teach and assist with a wide range of subjects such as Ethics, Public Administration, and many other social science subjects. I am adaptable, fun, and engaging, and will be sure to make your learning experience an enjoyable one!
Education & Certification
Undergraduate Degree: Covenant University - Bachelor in Arts, French Language
Graduate Degree: Kennesaw State University - Master in Public Health Administration, Public Administration
Hobbies
Cooking, traveling, reading, dancing, swimming
Tutoring Subjects
African History
AP Research
Conversational French
Ethics
French 1
Greek
High School Writing
Microsoft Office
Other
Spelling Bee
Technology and Coding
What is your teaching philosophy?
My teaching philosophy is: seek to understand and not merely to know. I believe that it is important to break down elements to the simplest level, to help someone gain a clear understanding. When I teach, the objective is for the student to understand the concept and be able to define it in a personal way.
What might you do in a typical first session with a student?
In a typical first session, I would get to know them- their hobbies, likes and dislikes, favorite subjects, and why they are interested in the particular subject I would be teaching them. This will give me the information necessary to formulate an individualized lesson plan for the student.
How can you help a student become an independent learner?
I would help them by setting simple goals with them, focusing on reading and researching materials for themselves. There will also be a weekly check-in, where the student will share updates and how they feel at that point.
How would you help a student stay motivated?
By appreciating their progress at every point, and encouraging them to keep working hard.
If a student has difficulty learning a skill or concept, what would you do?
I would break it down to the simplest form and look for supplemental resources and videos to help them understand the concept or skill.
How would you help a student get excited/engaged with a subject that they are struggling in?
By showing them how parts come together to make a whole, I can help the student see that the subject is made up of various aspects that can be tackled part-by-part, to get them engaged, excited, and willing to overcome their problems with the subject.
What techniques would you use to be sure that a student understands the material?
By giving assignments and impromptu quizzes, I will be able to tell whether the student understands the material, and also by talking with them to find out if they understand the material and covered topics.
How do you build a student's confidence in a subject?
By starting them off with easier tasks, and gradually increasing the difficulty level, providing guidance all the while.
How do you adapt your tutoring to the student's needs?
I do this by creating an environment for the student to talk about the ways they learn best, and I work to modify my tutoring accordingly.
What types of materials do you typically use during a tutoring session?
I use mostly online resources, videos, and quizzes, but I will be able to recommend textbooks and study guides to facilitate the learning process.
How do you help students who are struggling with reading comprehension?
I do this by encouraging them to read aloud separately, and write down what they understood from each reading. This not only helps them get more confident in themselves, but it also helps them develop their public speaking and analytic skills.
What strategies have you found to be most successful when you start to work with a student?
A strategy that has worked well has been one that includes involving the student in developing lesson plans and setting weekly goals with them reporting on updates.
How do you evaluate a student's needs?
Knowing the background, interests, and motivations of a student helps me understand what their needs are. Using informal quizzes at the beginning of the tutoring session, I will then be able to evaluate their needs based on the reading, writing, and speaking criteria.