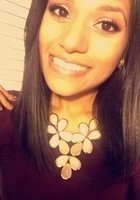 Shivani
Certified Tutor
My name is Shivani, and I am a Biomedical Science and Psychology double major at Texas A&M University, graduating in May 2015. I attended James Madison High School in San Antonio, Texas, where I graduated as Valedictorian in May 2011. I will be attending medical school at UT Southwestern Medical School starting in Fall 2015. In my free time, I enjoy dancing, doing yoga and pilates, and baking.

During high school, I tutored my peers in Advanced Placement classes, and after my freshman year of college, I began a summer job teaching middle school and high school age students at a math and science summer program. For the last year, I have been working through Texas A&M University as a tutor for student athletes in most science and psychology courses, as well as some writing courses.

One of my main focuses as a tutor is encouraging students to be self-motivated and appreciate the process of learning. I have had both very good and very poor professors in the past, so I believe that the best teachers know what it is like to not know something and are able to help their student understand the basics. I try to make every session fun and productive, so my students feel like they can accomplish and understand concepts that they didn't think they could before. I take a vested interest in every student I teach, and seeing my students make improvements is the biggest reward of tutoring for me.

The main courses I tutor for are: science courses that are pre-requisites for medical school, psychology courses, basic math classes, high school AP courses, writing classes, MCAT and SAT prep.
Test Scores
SAT Composite (1600 scale): 1600
SAT Math: 800
SAT Verbal: 800
SAT Writing: 800
MCAT: 34
Hobbies
dancing, baking, scrapbooking, pilates