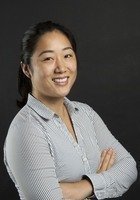 Asta
Certified Tutor
I am a graduate of the University of Chicago where I received my undergraduate degree in political science. Right after graduation, I worked as an academic and test prep tutor as well as admissions consultant in Hong Kong. For the past two years, I worked with a number of students to help prepare them for college in the United States.

Even though I tutor a wide range of subjects, I enjoy teaching English and standardized test preparation the most. I love helping my students find beauty in the English language in addition to helping them achieve their college goals. I also love working with students on their college essays because that's when I feel I get to know my students the best, as we talk through dreams, aspirations, and life experiences. I view education as a skill; education is not around to help us learn specific things, but rather education teaches us how to learn.

Outside the classroom, I'm a well-traveled certified SCUBA diver who enjoys spending time kayaking and weightlifting. I also played ice hockey through college and performed as a classical pianist on campus and in Europe. When I'm not feeling so active, I can be found knitting, crocheting, reading, writing, and daydreaming about where I want to travel to next. I'm working on becoming a true Renaissance woman.


Education & Certification
Undergraduate Degree: University of Chicago - Bachelor in Arts, Political Science and Government
Test Scores
ACT Composite: 35
ACT English: 35
ACT Math: 34
ACT Reading: 36
ACT Science: 36
SAT Composite (1600 scale): 1530
SAT Math: 800
SAT Verbal: 740
GRE Quantitative: 163
GRE Verbal: 170
GRE: 333
Hobbies
I enjoy sports, music, outdoor activities, traveling, and reading.
Tutoring Subjects
AP Chinese Language and Culture
AP US History
ASVAB Prep
CLEP Prep
CLEP History of the United States I
College Biology
College Chemistry
College English
College Level American History
Comparative Literature
Conversational French
Conversational Mandarin
Elementary School Math
French 1
High School Biology
High School Chemistry
High School English
High School Level American History
Mandarin Chinese 3
Mandarin Chinese 4
Music
Music Theory
Persuasive Writing
Piano
Quantitative Reasoning
SAT Subject Test in Chinese with Listening
SAT Subject Test in Mathematics Level 1
SAT Subject Tests Prep
Social Sciences
Vocabulary
What is your teaching philosophy?
As a tutor, I don't spoon feed my students information they learned in class. I try to identify weak areas then ask questions to lead my students to a better understanding.
What might you do in a typical first session with a student?
The first session is spent mostly on understanding where my student needs help the most. I also spend time to learn about not only student expectations but also parent expectations for future sessions.
How can you help a student become an independent learner?
Much to my students' chagrin, I never give them the easy answer. I'll help my students by breaking questions down into smaller pieces that will lead them to find the answer on their own. I find that, rather quickly, my students become better at problem solving. By helping them understand how to think about problems, I help my students to become more independent.
How do you build a student's confidence in a subject?
The lack of confidence is a major mental block for students. I will often start with a question that is easier than the one they need to answer but still goes over the concepts being taught. Much of the time, my students are able to connect how to solve the simpler question with how to solve the harder ones. I never tell them exactly how to solve a problem because they feel a greater sense of accomplishment when they arrive at the answer without being spoon fed the procedure.
What strategies have you found to be most successful when you start to work with a student?
I find starting each of my sessions with a quick Q&A with my student helps me to understand the amount and type of guidance they need. Afterwards, I will lay out an outline of what we will cover in the session so that my students understand exactly what it is we will get done. Structuring sessions this way has allowed me to address my students' needs efficiently.
How would you help a student get excited/engaged with a subject that they are struggling in?
Excitement is infectious. I am not above making myself look silly with enthusiasm about a subject. Both excitement and engagement about a subject will come as a student becomes more confident and proficient in a subject. Who doesn't like something they are getting good at?
What techniques would you use to be sure that a student understands the material?
I have students explain questions back to me. In addition, when solving problems, I will always ask my students why they are doing the step they are doing. By being able to explain why, they are then able to really understand not only the concept being learned but also their own reasoning behind their answers.
How do you evaluate a student's needs?
I start by asking my student and their parents. Parents often have the best understanding of what their child's strengths and weaknesses are. In addition, I ask all of my ACT students to take a diagnostic test before our first session and to inform me of their score breakdown and the questions they missed. By looking at what sorts of questions they missed, I am able to understand what they need help in.
How do you adapt your tutoring to the student's needs?
I bring a foldable whiteboard with me to every session I go to. Having this whiteboard has enabled me to adapt to my students' needs much more readily. Sometimes, a student just needs lots of practice solving one type of problem, and the whiteboard allows me to go through countless numbers of questions quickly. Other times, students need help mapping out a concept in a way that makes sense for them. Having a whiteboard allows us to visually understand the concept.