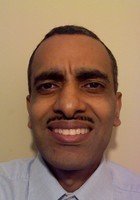 Teshome
Certified Tutor
I have a graduate degree and a lot of experience in Chemistry. In addition, I have minored in Physics during my undergraduate studies. I have taught undergraduate Chemistry classes for 5 years. I enjoy helping students learn chemistry and Physics. I teach the concept of Science (Chemistry, Physics)and make students practice problems for new ideas and skills. Finally, I teach students the application of the ideas of Science to the real world.
Education & Certification
Undergraduate Degree: Addis Ababa University - Bachelor of Science, Chemistry
Graduate Degree: Howard University - PHD, Chemistry
Hobbies
Running and going to the library.
Tutoring Subjects
College Chemistry
College Physics
General Chemistry
High School Chemistry
High School Physics