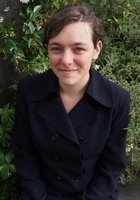 Helene
Certified Tutor
I'm French-American, but I grew up in Berlin. In December 2012, I got my BA in Anthropology/Sociology from Mills College.
I have been tutoring and teaching since 2009. From 2009 to 2011 I tutored mostly Math freelance and from 2011 to 2012 I taught French part-time at Bay Languages Academy, an after school program in Alameda. I started working with Varsity Tutors in 2013.

I have always loved getting to know all of my students. Every single one has taught me so many things about learning and teaching, and I believe in return many have grown from working with me. For me, learning to work with a student is like solving a puzzle. Each student has her or his own unique set of strengths. I believe that figuring out what these are and molding the content around them is the key to good teaching. Helping students to see and to use their own strengths is the least mentioned part of the equation, but for me it is the most important, because that is how I get my kids to become autonomous and self-motivated learners. I've always seen it as a challenging job, but also as enriching, enlightening, and awesome (and I mean awesome in the strongest sense of the word)! I am so happy to be able to continue that work with Varsity.

In terms of the subjects I am comfortable teaching, of course Math and French are what I have the most experience with. But I would love to be given the chance to tackle new things as well! For instance, I have an enduring love for literature and writing, and I am also completely fluent in German, having lived in Germany for fourteen years. I would love to be given the occasion to teach some German, English literature, or composition writing. I've often been my friends' informal editor!

In my free time, I love to write, read, and watch movies. I love to ski, though I seldom go. I love to travel. I love to go on bike rides with friends, or sometimes just grab a book and go explore the Berkeley hills on my own. I'll sit on a tree stump and watch the sun go down and squint to see the print in my book. Oh - more than anything, I love a good conversation with a friend. But a good conversation with anyone is a treat!

I hope to have the opportunity to start many good and productive conversations with parents and students through Varsity!
Education & Certification
Undergraduate Degree: Mills College - Bachelor in Arts, Sociology/Anthropology
Test Scores
SAT Composite (1600 scale): 1510
SAT Math: 750
SAT Verbal: 770
GRE: 336
GRE Verbal: 169
GRE Quantitative: 167
Hobbies
social science, research, education, writing
Tutoring Subjects
College English
Comparative Literature
Conversational French
Conversational German
Elementary School Math
German 2
German 3
German 4
High School English
IB Social and Cultural Anthropology
IB Social and Cultural Anthropology HL
IB Social and Cultural Anthropology SL
Quantitative Reasoning
SAT Subject Test in French
SAT Subject Test in French with Listening
SAT Subject Test in German
SAT Subject Test in German with Listening
SAT Subject Tests Prep
Social Sciences