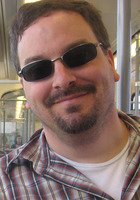 Jeremy
Certified Tutor
I am a full time practicing attorney in Arizona. I began tutoring when other lawyers asked me to tutor their children for the SATs and the LSAT. More and more people asked me to tutor their children, so I contacted Varsity tutors to extend my reach to people who did not know me personally. My style is energetic and engaging. As a trial attorney, I routinely have to communicate complex matters to a jury that has no experience in the fields of chemistry, biology and physics. This forces me to adopt an engaging style to ensure they do not tune me out. I have three very bright children of my own that keep me on my toes helping them with high school level math, reading and physics.
Education & Certification
Undergraduate Degree: University of Kansas - Bachelor of Science, Biology, General
Graduate Degree: William and Mary - Juris Doctor, Law
Test Scores
ACT Composite: 34
SAT Verbal: 800
LSAT: 166
Hobbies
Model rocketry, reading, computers.
Tutoring Subjects
Business
College Biology
College Chemistry
College Computer Science
College Economics
College English
College Level American History
College Physics
College World History
Elementary School Math
High School Biology
High School Business
High School Chemistry
High School Computer Science
High School Economics
High School English
High School Level American History
High School Physics
High School World History
Macroeconomics
Other
Study Skills
Study Skills and Organization
Technology and Coding