Work With The Perfect Tutor For You
All Schenectady County tutors possess the highest qualifications. In addition to completing a rigorous interview process, tutors in Schenectady County, NY must pass a background check and have academic credentials verified. An expert director will help you find the best tutor from this elite group; we stand behind these matches and even offer a money-back guarantee.
Receive customized Schenectady County tutoring in the comfort of your own home or online at times that are convenient for you.
About Schenectady County
Schenectady County, NY, has a population of about 155,000 residents. The county is populated with dozens of towns, and the town of Schenectady is the county seat. The county's name comes from the Mohawk language and means "on the other side of the pine lands."

Schenectady High School is a part of the Schenectady City School District. High School can be tough, but private tutors in Schenectady County can provide you online or in-home tutoring and instruction to assist with a challenging course or test prep. Grades are an important factor when applying to colleges, which is why a lot of pressure is placed on students to get good grades. It could be to your advantage to receive online tutoring in Schenectady County for test prep and help with course material. Students within the county have several nearby college options, including University at Albany SUNY. The college is an excellent and competitive choice for students as it was ranked in the nation's top 120 colleges. A Schenectady County, NY, tutor can offer you private instruction, through either online or in-home tutoring sessions, to help with your test prep so you can get into your top school choice.
Affordable 1-on-1 Home Tutoring by top RPI Grads! 4.9/5.0 Satisfaction Rating*
Session Summaries by Tutors
"The student and I continued our work on sequences with the added element of radius of convergence for sums including variables. We clarified what it means to converge conditionally and we also went over tactics on how to decide which test will be most useful to determine convergence or divergence. Great work!"
"In this session, the student and I worked on reading and math. I gave him some drills to work on reading. Although he did very well in answering the questions correctly, he still needs to work to improve his speed by doing more practice reading problems with a timer and reading outside materials. We then worked through math together, and he seems to have a good grasp of most of the concepts on this section. I asked him to take a full practice test before next session."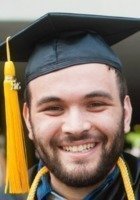 "We briefly went over his work in chemistry today to see how he was faring in class. He showed me what they were studying in class at the moment (chemical vs. physical properties) so I gave him a brief primer on how to distinguish between the two. For most of the session, he worked on his algebra class, in which he was studying matrices. He didn't seem to have too much trouble with understanding the concept of adding/subtracting/multiplying matrices. We had some spare time left over as well so we moved ahead of his class and covered tomorrow's lesson. "