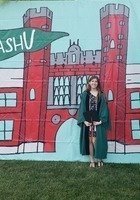 Kacey
Certified Tutor
I am currently a Research Engineer at Cook Research Inc. working on stent-grafts for the aorta. My education background includes Masters degrees in Biomedical Innovation and Systems Engineering from from Washington University in St. Louis. I have always had a passion for teaching, and tutoring allows me to fulfill that passion. When I was entering second grade and even a few times in college, I needed a tutor, so I know how critical one can be for success. Having been there myself, I want to provide that same help that I received to the next generation.
Test Scores
ACT Composite: 34
ACT English: 35
ACT Math: 35
ACT Reading: 33
ACT Science: 31
AP Calculus AB: 5
AP Calculus BC: 5
AP US History: 4
AP Macroeconomics: 4
AP Psychology: 5
Hobbies
I do karate as an extracurricular. I also have passions for yoga, dance, and art (specifically painting).
Tutoring Subjects
American Literature
Basic Computer Literacy
Biomedical Engineering
College Application Essays
College Level American Literature
College Math
College Physics
Elementary School English
Elementary School Math
Elementary School Science
Elementary School Writing
Engineering
Expository Writing
Fiction Writing
High School Physics
High School Writing
Java
MATLAB
Microsoft Excel
Microsoft Office
Middle School English
Middle School Science
Middle School Writing
Other
Programming Languages
Social Sciences
Technical Writing
Technology and Coding