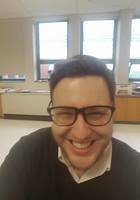 Michael
Certified Tutor
One of the greatest accomplishments in life was earning my Bachelor's Degree in Secondary Education/Social Sciences and History at Flagler College in 2011. When I walked across the stage of my graduation I came to the realization that I was the first person in my family to earn a college diploma. Within six months I was hired at Hunter's Creek Middle School in Orlando, Florida as a seventh-grade social studies teacher beginning my five-year career working in education. Little did I realize, those five years would take me all over the country, into different opportunities I never thought were possible.

Starting at Hunter's Creek Middle School was daunting at first but I settled in quickly. In my first full year teaching, I was assigned to the Literacy Design Collaborative (LDC) team. Working with a non-for-profit called the Southern Regional Education Board (SREB), we worked to increase literacy practice within Orange County Public Schools (OCPS) classrooms. I was also Teacher Leadership Team (TLT) during my first year being recognized as a leader in my school. After then being assigned to the county wide leadership team to standardize lesson plans in the district and assist in Professional Development (PD) for teachers to utilize technology in the classroom while maintaining high standards for students and quality instruction, I was recruited to be a literacy coach with SREB.

Working with SREB was a job that brought more than changes to my life, it gave me an epiphany to where I stood in my career. The job required me to travel throughout the southeast to assist teachers in struggling schools to utilize the LDC model in their classroom to increase literacy proficiency. Despite my personal enjoyment of traveling and working, I longed to return to the classroom and work with students. So I resigned from the job and applied to schools in Massachusetts and received a call from my current principal, Nathaniel Higgins. When I talked to Higgins on the phone interview from Orlando, it felt like the situation I wanted to be in.

Teaching a year in Springfield has given me that drive I hoped that it would to revitalize not just my career but myself on a personal level. I have realized working with the students that I have that I had so much to learn in terms of pedagogy and classroom management. Maura Faulkner, my Director of Instruction and personal academic coordinator, has consistently observed me in the classroom and given me feedback to further myself as a classroom teacher. The meetings and feedback have made it possible for me to push my students to heights I never thought imaginable looking at pre-assessments from the first week. Andrew Marshall, the Dean of Students, has given me strategies to better manage the classroom and to engage with students for them to understand the purpose of discipline being used in a classroom while letting them still have a voice to represent themselves. This has resulted in a class that is structured but gives students the opportunity to engage in content like never before because the flow of my classes is so much smoother. Nathaniel Higgins, my principal, has given me consistent feedback on how to further my career beyond the classroom and to focus my efforts into becoming an administrator to enact greater change in education on a school wide level beyond the microcosm of my classroom. This encouragement and growth has given me the push to further my education into a Master's Degree in education. With all of these strides, I still wanted more out of my career and applied to Varsity Tutors.

The main reason I applied is I want more experience working with students that teaching cannot provide in the time frame I have. Also, I want to work with students from different backgrounds and ages that I currently do not interact with. Tutoring allows me to fulfill these passions and to continue to advance my pedagogy as a teacher.
Hobbies
Teaching and tutoring, going to concerts, reading, writing, hiking, and traveling the globe
Tutoring Subjects
Business
College Application Essays
High School Economics
High School English
High School Writing
MAP Prep
Microsoft Office
Middle School Reading
Middle School Reading Comprehension
Middle School Writing
Other
PARCC Prep
Technology and Coding