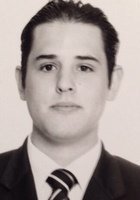 Carlos
Certified Tutor
Tutoring can be hard for any struggling student . But that's not the way it has to be. I like to start my sessions in a stress free environment. I'd like for the student to see me as a mentor and friend, that way trust between us will lead to a favorable learning environment.

Once this has been done, we will start by identifying strengths and deficiencies. This will enable us to create a strategy meant for success, coupled with a little humor here and there, some flashcards and relating the subject matter to everyday life, there's no way on earth that we won't achieve and even surpass the set goal. This is the reason I like to explain everything starting from the basic concepts up to the most complicated, because once the student has mastered the basics and all the information is understood and not just memorized, the rest will be as easy as pie.

A little info about me, I've earned an MD degree and I'm currently working in cancer research at UTHSCSA, which fortunately for the students and myself, means my grasp on cellular biology, molecular biology, physiology, pathophysiology, anatomy and all basic medical sciences is right on point and as fresh as the nicest looking lettuce at a farmer's market.
I'm also certified by the ECFMG, which means that I've passed all my basic and clinical science exams, this will allow me to apply for a medical residency in the US.
Having studied and mastered the required subjects for my certification also means I have a firm grasp on biology and core science concepts.

All my educational formation allows me to understand each student's situation, because I've honestly been there, sitting at the library staring into the book and then into oblivion because the information looks so complicated. But there is light at the end of the tunnel, with perseverance from both of us and a desire to advance, we can make it and excel.

I'm also a native espaol speaker, which fortunately for me, means I can also help anyone with basic language skills and even the most complicated spanish classes, essay writing, literature and just plain learning to speak spanish.

I look forward to working with anyone that's looking to learn and get ahead.
Education & Certification
Undergraduate Degree: Instituto tecnolgico y de estudios superiores de Monterrey - Bachelors, Medical Doctor
Graduate Degree: Instituto tecnolgico y de estudios superiores de Monterrey - Current Grad Student, Medical Doctor
Hobbies
I enjoy reading, watching movies and drinking coffee, and of course helping you out
What is your teaching philosophy?
Each student is different, there is no such thing as a universal teaching strategy. Upon meeting the student, I will identify what the strengths and shortcomings are in order to develop the best way to help retain information and make learning interesting and not a chore.
What might you do in a typical first session with a student?
I would like to know why the student is having a hard time with that specific subject or what it is that's specifically causing distress. From here we can identify strengths and help make them solid in order to work on fixing the deficits.
How can you help a student become an independent learner?
Many times, students don't understand the subject matter because they feel overwhelmed; eliminating this feeling will encourage them to take the initiative and learn.
How would you help a student stay motivated?
Memory is always a useful tool, but if that which is memorized is not put into action it will be forgotten soon. The best way to motivate a student is to incorporate a bit of comedy or relate the subject matter to their interests.
How do you help students who are struggling with reading comprehension?
Identify why they're struggling. Is it a pathology? Is it because they're uninterested in the subject matter? Strategies are a dime a dozen, but if we can't identify the underlying cause for this difficulty, then we're just trying to fix the problem with a band aid.
What strategies have you found to be most successful when you start to work with a student?
Roleplaying is always a helpful tool, having them explain the subject to me as if I didn't know it at all, then going through it with the student, and then finally have the student expertly explain it to me
How would you help a student get excited/engaged with a subject that they are struggling in?
Look for what we can relate the subject matter to, and then make the student part of the solution, not just be a talking head.
What techniques would you use to be sure that a student understands the material?
I use roleplaying, mnemonics, study (flash) cards, and diagrams.
How do you build a student's confidence in a subject?
Once we've gone through the subject matter together, I'd have the student explain everything to me and identify if any loopholes remain in their knowledge.
How do you evaluate a student's needs?
I try to make the session seem as informal as possible in the sense that the student feels comfortable and tells me why they're failing.
How do you adapt your tutoring to the student's needs?
Like I've said before, there's no universal teaching strategy, what's useful for one student may not be for another. We must identify shortcomings from the beginning and work through them to solidify the knowledge.
What types of materials do you typically use during a tutoring session?
I use reference books, diagrams, internet, images, flash cards, and drawings.