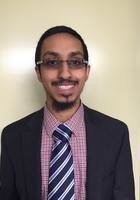 Murtaza
Certified Tutor
I have a passion for math and have always enjoyed helping others understand math concepts. I would love to help you (or your child) succeed on the SAT.

I've always been a strong test taker because of the strategies I use. I can not only help you understand the math, but also help you study more efficiently and manage your time effectively while taking tests.

I look forward to teaching anyone who has the desire to improve his or her SAT score.
Test Scores
SAT Composite (1600 scale): 1510
SAT Math: 760
SAT Verbal: 780
Hobbies
Reading, Listening to music, Drawing, Technology, Exercise, Video games
What is your teaching philosophy?
I believe that knowledge is most easily retained when the student understands it at a fundamental level. I try to teach the student to intuitively grasp a concept.