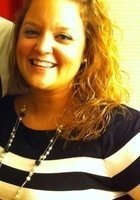 Jenny
Certified Tutor
I am a long time Metro Nashville Public Schools teacher (in my 11th year). I currently teach second grade. My favorite subject to teach and tutor would be reading. I myself love to read and continue to be a life long learner. Showing students reading does not always have to be so painful brings light back into their life. My undergraduate B.S. degree is from The University of Tennessee, Knoxville-GO VOLS! and my masters degree is from Trevecca Nazarene University concentrating in educational leadership. I have served as an instructional coach helping the teachers in my building better serve our students and allow them to reach their goals. I have always known I would be a teacher. I can remember to this day playing "school" with my friends and an old discarded teacher's manual. My goal one day is to be in educational administration.
When not tutoring or educating, I love to be at the water-beach or lake. In the fall when the weather is cooler, I enjoy watching college football, Predators hockey, and the sights and smells of Autumn. If I am not with a student in a classroom or at their home, you can usually find me volunteering with the Nashville Humane Association. Dogs are my second love!
I am excited to help your child/student and watch them grow and change!
Hobbies
Volunteering with the Nashville Humane Association. Dogs.
Tutoring Subjects
College English
High School English
What might you do in a typical first session with a student?
Get to know the student, find out their likes and dislikes, look at what they are struggling with and need help in, and see what it is they want to get from tutoring.
How can you help a student become an independent learner?
Model, teach, and reteach.