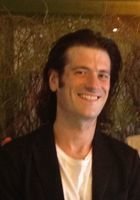 Sean
Certified Tutor
I have been teaching and tutoring test preparation for over 15 years. I started after my first year at Rutgers College teaching the SAT and LSAT for a major test preparation company. I went on to teach writing to fellow undergraduates at Rutgers College and to gifted high school students at Johns Hopkin's Center for Talented Youth. As a graduate student at the University of California at Berkeley, I taught European history to undergraduates earning an Outstanding Graduate Student Instructor award in 2002. Even though I was subsequently accepted into New York University Law School, I decided to pursue a career in education. Later, I started teaching the GMAT for an online test preparation company. In addition to teaching, I am constantly pursuing different artistic projects. I have been featured on the website College Humor and have performed as a comic and musician in New York City.
Education & Certification
Undergraduate Degree: Rutgers College, Rutgers University - Bachelor in Arts, History
Graduate Degree: University of California-Berkeley - Master of Arts, European History
Test Scores
GMAT: 750
LSAT: 174
Hobbies
plays guitar, has a karaoke addiction, Master's in History (specializes in Russian History) thinking about and going back and getting PhD. Enjoys the show the Wire and Archer. Not big on pop culture (loves the 70s). Works out but not big into sports.
Tutoring Subjects
GMAT Analytical Writing Assessment
GMAT Integrated Reasoning
GMAT Quantitative
GMAT Verbal