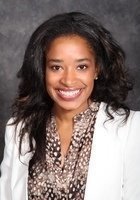 Lauren
Certified Tutor
I have my interests fixated on changing the world and tutoring is merely a vehicle on the plight of doing so. I attended Cinco Ranch High School, Seton Hall Unversity, but I am a graduate of the fighting Texas Aggies. I have been tutoring peers as early as middle school and have even taught English abroad. I empathize with a diverse demographic, having lived abroad in countries such as China, Korea, Spain, and Poland.

I am an extremely motivated individual with a wide utility of skills and capabilities. While I particularly excel in the language component and enjoy traveling and culture, I also love math, reading, writing, and most of all, thinking. Normally, I utilize unconventional teaching methods for my students, as I have encountered that flash card memorization inhibits a true learning experience.

During the summer, I usually voluntarily coach USA track and field for the youth, which also exemplifies my ability to lead and mentor. I love to teach the youth because sharing wisdom is the purest form of nostalgia in my opinion. It also supplies self gratification and brings me closer to the change that I desire to see reflected, not only in my students, but in myself as well.

My favorite hobby is virtually anything that involves music and dressing well.

Specialties:
spanish, marketing, international relations, legal trademarks and patents, legal brief and document preparation, mathematics, reading, customer service orientation, document editing, event planning and execution, branding and identity, negotiation and mediation.
Hobbies
Cultural stimulation such as plays, operas, and symphonies. Lover of travel, reading, writing, art, and learning new languages. Texas A&M Aggie and former athlete; also a lover of fitness and wellness. Affectionate of intelligent banter.
Tutoring Subjects
AP Spanish Literature and Culture
Business
Business Ethics
College Economics
College English
Conversational Spanish
Elementary School Math
High School Business
High School Economics
High School English
Intermediate Accounting
International Business
Macroeconomics
Marketing
Spanish 1