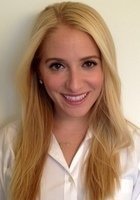 Molly: Belo Horizonte TOEFL tutor
Certified TOEFL Tutor in Belo Horizonte
...to teach "tricks" for getting the right answer. Rather, I aim to wholly ingrain the skills, strategies, and overall thinking needed to fully understand how and why we can come to certain answers. My goal is not to help students to merely get a good grade on the next quiz, but to help build a...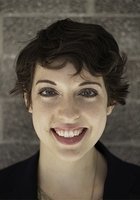 Gabrielle: Belo Horizonte TOEFL tutor
Certified TOEFL Tutor in Belo Horizonte
...and competency levels. I am particularly passionate about tutoring English, Mandarin, and standardized test prep. In my experience working with students struggling to pass a class or to prepare for college entrance exams, we always have fun determining the study method that works best for them. Everybody has a different learning style and once we...
Luke: Belo Horizonte TOEFL tutor
Certified TOEFL Tutor in Belo Horizonte
...make written ideas come to life. In addition, I have a passion for helping students improve their performance in ACT Reading, Writing, and Science. Whatever the subject, I thrive on leading students to moments of clarity and a sense of accomplishment. When I'm not tutoring, I enjoy exploring nature, playing strategy board games, and reading...
Rebecca: Belo Horizonte TOEFL tutor
Certified TOEFL Tutor in Belo Horizonte
...and siblings to keep up with. I enjoy cooking, coffee, tea, healthy living, reading, sewing, painting, and oh so many other things. Some of my more serious interests include preventing human trafficking and slavery, and promoting better environmental stewardship. Having a variety of interests helps me connect with my students, and I like to focus...
Boshra: Belo Horizonte TOEFL tutor
Certified TOEFL Tutor in Belo Horizonte
...my area of study. These included both work as a translator (to and from Arabic and English), involvement in cross-cultural seminars, and informal instruction in Arabic. This is when I found teaching to be particularly rewarding and inspiring, and I knew that gaining formal qualifications would utilize my knowledge, skills, and passion and bring me...
Stephen: Belo Horizonte TOEFL tutor
Certified TOEFL Tutor in Belo Horizonte
...prepare for standardized tests for college admittance. I have also tutored adults preparing for academic proficiency tests for their jobs and with GRE prep for those interested in going to graduate school. Additionally I have taught English grammar, reading, and conversational skills to ESL students in Chicago, Ecuador, and Colombia. While I tutor a number...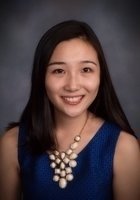 May: Belo Horizonte TOEFL tutor
Certified TOEFL Tutor in Belo Horizonte
...students and letting them come up with the answer by themselves. In college, I am a TA for a Calculus 1 class, helping students understand difficult concepts and prepare for tests. Last summer, I traveled back to China and tutored math for standardized testing such as the SAT Subject Math and AP Calculus. Helping struggling...
Shelby: Belo Horizonte TOEFL tutor
Certified TOEFL Tutor in Belo Horizonte
...career focus is working with teachers and at-risk students, as a Literacy Coach in an urban school district, to increase literacy rates. Frederick Douglass said, "Once you learn to read, you will be forever free"; I believe that being able to read allows one freedom and the confidence to choose any path in life; opens...
Shahnawaz: Belo Horizonte TOEFL tutor
Certified TOEFL Tutor in Belo Horizonte
...courses: Number Theory and Discrete Mathematics. My duties involved giving weekly tutorials and designing and evaluating homework and quizzes. I have also taught underprivileged high school students as part of an NGO. I taught math, computer science and english speaking skills. This is why Mathematics is my favourite subject to tutor. I am also comfortable...
Private Online TOEFL Tutoring in Belo Horizonte
Receive personally tailored TOEFL lessons from exceptional tutors in a one-on-one setting. We help you connect with online tutoring that offers flexible scheduling.
Varsity Tutors can connect you with an online TOEFL tutor in Belo Horizonte who can help you reach for your test goals. The TOEFL is an English proficiency test that measures a non-native speaker's ability to understand the language at the university level. It is used in more than 10,000 universities and over 150 countries and can also be used by immigration authorities when issuing residential and work visas. Whether you're a student at the Federal University of Minas Gerais or a professional aiming to live and work in an English-speaking country, working with an expert Belo Horizonte TOEFL tutor can raise the quality of our test prep and help you reach your target test score.
TOEFL tutoring in Belo Horizonte allows you to review for the test online, which can be an excellent option if you're a full-time employee or a student who has to go to school in the daytime. You don't have to set aside extra hours in your commute just to complete your test prep. With online private lessons, you can study at home or anywhere that allows you to fully concentrate on what you're studying. If you are also the type of learner who gets easily distracted by others, then studying online can be the perfect option for you. Your Belo Horizonte TOEFL tutor can give you a thorough review of the different sections of the test, and you can practice answering questions in a distraction-free environment. Private lessons also allow you to choose the best time for you to study. Your instructor can accommodate your scheduling requirements so you can participate in lessons when it's most convenient for you.
Aside from helping you become more familiar with the content and format of the test, TOEFL tutoring in Belo Horizonte also gives you a very personalized test prep experience. What you study and how you learn them can be adjusted based on what you already know, your learning gaps, learning style, and strengths and weaknesses. This personalized approach is something that may be hard to get from a traditional TOEFL review course. For example, if you're English listening skills are already excellent but you're still struggling with your writing skills, you and your Belo Horizonte TOEFL tutor can design a study plan that dedicates more time on writing. You can practice writing essays and get instant feedback regarding vocabulary, grammar, and organization from your online instructor.
Not all students learn the same way or the same speed. That's why effective teaching has to take into consideration how a student naturally learns, but this can't always be achieved in a traditional classroom set-up. In your TOEFL tutoring in Belo Horizonte, your instructor can also adjust his or her teaching methods based on your learning style, which can be a very effective technique to help you learn new concepts and improve your current skills faster. For example, if you are a visual learner, your instructor can have you study advanced English vocabulary using illustrations or short video clips containing the target words. This way, you don't just see the words as written text but also get to connect them with images so that you can have an easier time recalling their meaning.
Your TOEFL score can have a huge impact on your future education or professional goals. By working with an expert tutor, you can get the support you need to improve your English skills and score as high as you can in the test. Call Varsity Tutors now if you would like to start your online TOEFL review. We can connect you with an experienced Belo Horizonte TOEFL tutor as quickly as one day after receiving your request.
Your Personalized Tutoring Program and Instructor
Identify Needs
Our knowledgeable directors help you choose your tutor with your learning profile and personality in mind.
Customize Learning
Your tutor can customize your lessons and present concepts in engaging easy-to-understand-ways.
Increased Results
You can learn more efficiently and effectively because the teaching style is tailored to you.
Online Convenience
With the flexibility of online tutoring, your tutor can be arranged to meet at a time that suits you.
Top International Cities for Tutoring