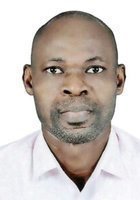 Valintine
Certified Tutor
I am a tech enthusiast with a STEM background. Holder of a BSc. degree in Biochemistry and some Post Graduate Study in Biotechnology. Hold many IT certifications and studying Cloud Engineering.
Teaching is my passion and I have over 6 years of experience teaching the sciences ((Bio)Chemistry and Mathematics). Mathematics is my best subject. I also teach French for absolute beginners.

Education & Certification
Undergraduate Degree: University of Dschang - Bachelor of Science, Biochemistry
Graduate Degree: King Mongkut's University of Technology Thonburi - Master of Science, Biochemistry
Hobbies
I like to sing and play the guitar and piano. I like soccer.